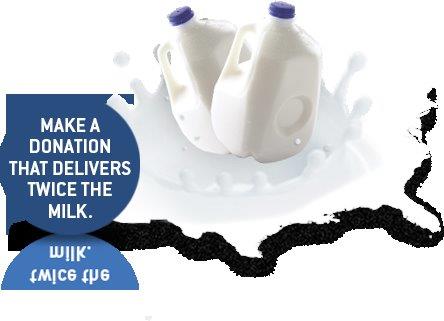 I've never experienced hunger and chances are you haven't either. But today more than 37 million Americans are struggling with a lack of food on the table. On a daily basis, one in every six families in this great country struggles with hunger.

More than 16 million children are among the hungry in this country. These kids are not just hungry; they are missing out on the nourishment they need to reach their full potential:
To get a better education.
To become a more productive member of society.
To raise their families in the absence of hunger.

Guess what these families most often request upon arriving at the local food bank? Milk. Guess what food banks don't have enough of? Milk.

Right now, food banks have available less than 1 gal. of milk per year for each family being served. They need 68 gal. per family, per year.
---
Bonus Content
More on the Milklife campaign
---
Hence: The Great American Milk Drive. The National Dairy Council, part of Dairy Management, Inc., and MilkPEP, the dairy processor-funded promotion organization, have teamed up with Feeding America, a nationwide network of food banks.

The objective: To make more milk available to families using food banks, and to help feed hungry kids.

MilkPEP and DMI have committed several million dollars and thousands of hours of staff time to this multi-year effort to put more milk in food banks. The campaign is very straightforward.
It uses several means to reach Americans and encourage them to donate money toward the purchase of milk. Print advertising, social media, in-store events and many of other communication vehicles will be used.

The campaign is aimed at getting folks to give online (see Bonus Content for this column) or through text message. These donations, of as little as $5, will be collected by zip code so the money collected will be directed to a Feed America food bank in the donors' neighborhood.
The food bank will then distribute coupons for free gallons of white milk (any brand) from local grocers.

Hats off and a heartfelt thank you, American dairy farmers. This is your checkoff money at work "Doing the Right Thing."
Jerry Dryer is the editor of Dairy & Food Market Analyst, www.dairymarketanalyst.com. You can contact him at [email protected].