ALAN LEVITT is president of Levcom Inc. in Crystal Lake, Ill. You can contact him at (815) 459-1742 or
[email protected]
.
Runaway whey prices were a huge boon to milk checks in 2007, and a drain in 2008 and 2009. After a period of stability last year, U.S. whey values took off again in early 2011.

Dry whey prices are now 30¢ higher than they were two years ago, effectively adding $1.80 to the
Class III milk price.

Structurally, tighter global protein supplies suggest that strong whey prices should be sustainable for the near and medium term.

The whey stream has undergone a dramatic transfor-mation in recent years. More whey is being processed than ever, but the growing demand for nutritional foods and beverages has shifted the whey stream into higher-protein products.

In the last five years, production of whey protein concentrates (WPC) and whey protein isolates (WPI) with at least 50% protein has increased 78%, while output of whey with less than 50% protein has dropped 4%. Five years ago, two-thirds of the whey stream was turned into dry whey and lower-protein WPC. Today, those lower-value commodities make up just half of the stream.
Bonus Content
---
More on whey prices:
The pull from overseas has been powerful as well, with emerging markets seeking out more protein in all of its forms. In 2010, shipments of WPC and WPI were a record-high 439 million pounds, nearly triple the volume sent offshore just five years ago. Even dry whey export volumes picked up last year, amounting to 55% of U.S. production, the most ever.

Much as in the 2007 rally, European Union (EU) whey prices have led U.S. prices higher. In February, EU dry whey topped 60¢ per pound and U.S. suppliers were still making up ground.
However, by mid-March, EU prices were in retreat. Buyers finally balked, particularly livestock operators who use a significant portion of the lower-protein powder for animal feed. This isn't necessarily bad; further price gains probably would have snuffed out demand more severely, similar to what happened in 2008.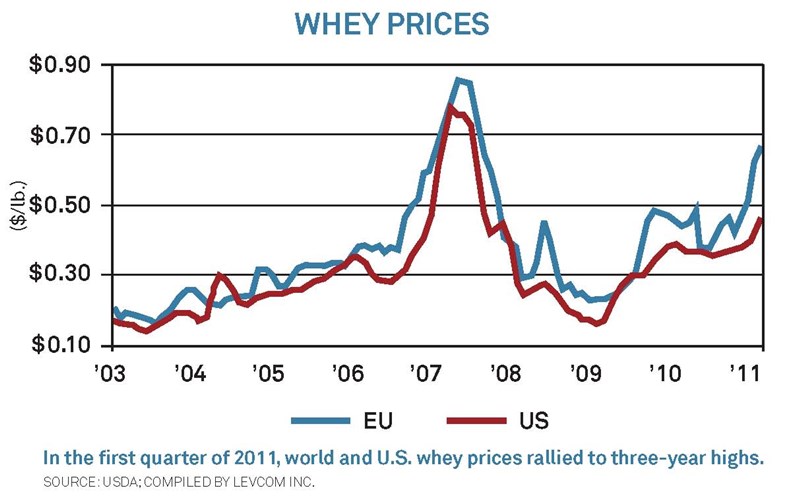 In the U.S., spot supplies of all forms of whey, from dry sweet whey to WPI, are limited. Nearly all production is committed.

Moreover, solid milk powder markets will help support the whey complex. On a protein basis, a nonfat dry milk price of $1.40 equates to a whey price of close to 50¢.

These factors all bode well for another strong year for the whey market. Cheese, butter and powder are getting most of the attention, but whey is a critical component in most farmers' milk checks.