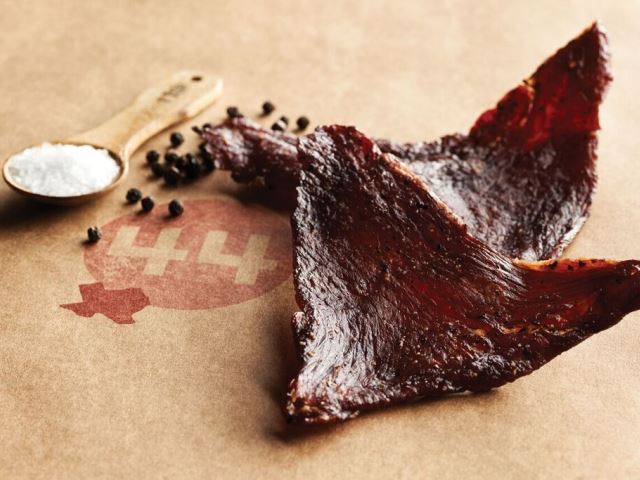 An increasing amount of consumers want to know more about their food and are looking for local products. Beef producers have started to catch onto that trend and are seeing success in starting their own branded beef programs.
At first getting into the branded beef business may seem difficult, but in the end it requires establishing relationships with a processor and a distributor or retailer.
Lone Star State Success
44 Farms has integrated a branded beef program into the seedstock business' portfolio in 2012 to help capitalize on the quality Angus genetics sold throughout the U.S.
"It was always a goal of ours to have a branded beef program," says Doug Slattery, 44 Farms chief operating officer. The process was sped up after a group of home raised calves were fed out and the carcass results showed an excellent quality grade.
Nearly 1,300 bulls are marketed annually from the Cameron, Texas-headquartered operation going to cow-calf producers who now have the opportunity to sell their calves back to 44 Farms.
Those purchased calves are then fed by 44 Farms through a custom feeder in Hereford, Texas. The cattle end up at a packer in Amarillo and are processed into a variety of beef products under the 44 Steaks label. Only cattle grading Prime or Choice are marketed as 44 Steaks. Select grade or lower calves go through traditional channels.
44 Steaks' labeled beef can be found in 175 restaurants. Nearly 90 percent of those restaurants are located across Texas, but thanks to a good relationship with the distributor 44 Steaks are also in Utah and Louisiana. Boxed beef cuts and jerky can be purchased at a retail outlet in Houston and online, too.
Typically, the middle meats like filets, ribeyes and strips are easy to move. It's the hamburger grind that can be difficult to market.
For 44 Steaks that hasn't been the case. "That's been the real surprising thing, we've been able to market everything," Slattery says. The newer, upscale hamburger restaurants in large metropolitan areas like Dallas, Austin and Houston have helped to increase the demand for grind.
He relates that it does take time finding and foraging the partnerships with a beef processor and distributors. Once those parts of the equation are solved there is a niche market to be had.
"People will pay a premium for a quality product," Slattery says.
History in Beef
The Seminole Tribe of Florida has been in the beef business since 1521 when Spanish Conquistadors first brought cattle to America. Only recently did the tribe get involved in selling their beef directly to consumers.
Seminole Pride Beef started in June 2013 as a program to help market some of the calves that are born from the nearly 14,000 cows that tribal members own. The process of putting together the program took place over the past 12 years.
"We launched it and it went over like hot cakes," says Alex Johns, natural resource director for the Seminole Tribe. The tribe couldn't meet the demand with just their own cattle, so it was opened up to local ranchers whose cattle met the quality specifications of Seminole Pride.
"We want this to be a Florida program," Johns says.
Seminole Pride is in more than 200 restaurants and small retail outlets in the Sunshine State and there has been interest in nearby states like Georgia.
The benefits of a local brand haven't been just witnessed by consumers and ranchers. Florida businesses have been vital in the development of getting Seminole Pride from pasture to plate.
A partnership was formed with Quincey Cattle Co. in Chiefland, Fla., to feed the cattle instate rather than transporting to feedlots High Plains. A packing plant in central Florida has agreed to handle all of the processing of the feeder cattle. Family owned distributor Cheney Brothers ensure the finished product makes its way to restaurants.
Small Operators Brand Beef Too
Creating a brand isn't just limited to large cattle operators. Rob and Amy Hess, owners of Bow Creek Farm and Cattle Co., Hershey, Penn., wanted to find a value added market for their calves originating from a 30-head Red Angus cow herd.
"We wanted to create a brand so that our beef was not a commodity," says Rob. "We wanted to be something other producers were not or could not be."
In 2011, they contacted the management at the historic, and nearby Hershey Hotel. The following week the head chef for the hotel's Harvest Restaurant called back and was excited to be featuring locally raised beef on the menu. Bow Creek is now the featured brand on the menu and approximately 10 head of calves are marketed to the hotel each year.
Other calves have been sold locally in 1⁄8 shares to consumers. The packages include about 50 lb. of beef selling for $439.