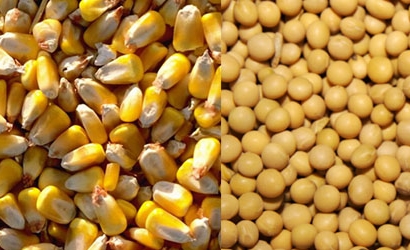 True or false: Corn and soybean prices have fallen so far and so fast they simply can't go lower because prices are well below production costs. That's false, says Dave Fogel, director of farm marketing for Advance Trading.

"We can go below breakeven and stay there a long time," explains Fogel, who says he is not a gloom-and-doom analyst. "Farmers care about breakeven, but the market doesn't."



As a result, farmers need to understand the risk they're taking with unpriced grain. He estimates 85% of the 2014 crop is unpriced. Even more sobering, as much as 20% of the 2013 crop is unpriced.

"Lots of procrastination is taking place in a down market," Fogel notes.

Delayed marketing poses a concern because no one knows whether the market will move lower or higher in the months ahead. After all, some end users in 2012 said corn couldn't go higher than $6, only to watch prices hit $8.

"Next spring, corn could either be $3.50 or $5," Fogel says.
Manage Your Risk
Farmers can protect themselves for those scenarios and others with options strategies that have become a good value, Fogel advises.

Producers without on-farm storage should consider making corn sales at harvest if commercial storage is the only alternative. Then consider re-owning the grain by purchasing call options, Fogel says. The strategy allows producers to capitalize on market rallies.

Meanwhile, farmers who choose to store grain commercially should strongly consider put options to protect against downside risk, Fogel says.
Farmers should crunch the numbers to compare the cost of commercial storage to cash-market returns. "There may be cases where it works to store, but it varies by area and what elevators charge," he says.

Put options also make sense for farmers with on-farm storage as a means of protecting the value of grain inventory, he adds. He suggests farmers buy puts that allow them to lock in the month with the best carry.
Options Cheapest in 15 Years
The silver lining to dark marketing clouds is the relatively low cost of risk protection. "Options premiums haven't been this cheap for 15 years," Fogel explains.
Compare put-option buying power on the December contract August 14 the year before the option expires, Fogel says. A 30-cent premium for 2015 meant just 15 cents out-of-the-money for a $4 put with futures at $4.15. That compares to 34 cents out-of-the-money for 2014 ($4.60 put with $4.94 futures); 88 cents for 2013 ($5.50 put with $6.38 futures); and $1.15 for 2012 ($5.30 put with $6.45 futures).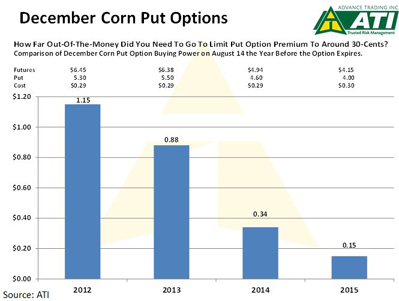 Source: Advance Trading

For November soybean put options, to keep premiums around 50 cents—also on August 14 the year before the option expires—a producer would be 41 cents out-of-the-money for 2015 on a $10.20 put and $10.61 futures. That compares to 70 cents out-of-the-money for 2014 ($11.20 put with $11.90 futures); $1.37 for 2013 ($11.40 put, $12.77 futures); and $1.60 or 2012 ($11.60 put, $13.20 futures).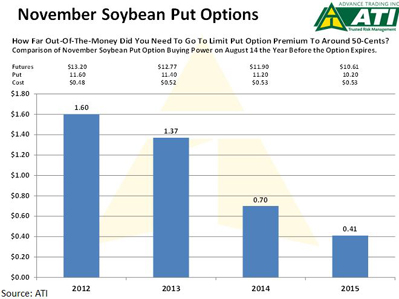 Source: Advance Trading

Crop Insurance Misconceptions
Fogel cautions that guaranteed crop insurance payments do not remove price risk from the actual crop. He acknowledges that at first glance, farmers who signed for federal crop insurance revenue protection at a level between 80% and 85% of their actual production history (APH) are close to breakeven for 2014. Yet he encourages those producers to consider options rather than assuming breakeven is in the bag. 

"Producers need floor coverage," Fogel says. "Get a put on."

Additionally, crop insurance for 2014 is virtually over Oct. 31, he points out. Producers will no longer be protected on price through crop insurance after that date.

"They even have more risk," he notes. "Some have compared this situation to the old days where farmers would redeem their loan deficiency payments and take their LDP but not sell their bushels. This worked out well when the price went up but terribly when prices went down. The same thing could happen on Oct. 31 this year."

Thinking ahead to 2015, Fogel says it makes sense to go ahead and protect next year's crop, too, in case weather cooperates as it has this year.

"But get 2014 marketing taken care of first," he concludes.
---
Want more? AgWeb readers are sharing fresh marketing insights every day. Click here to join the conversation, or to start your own.