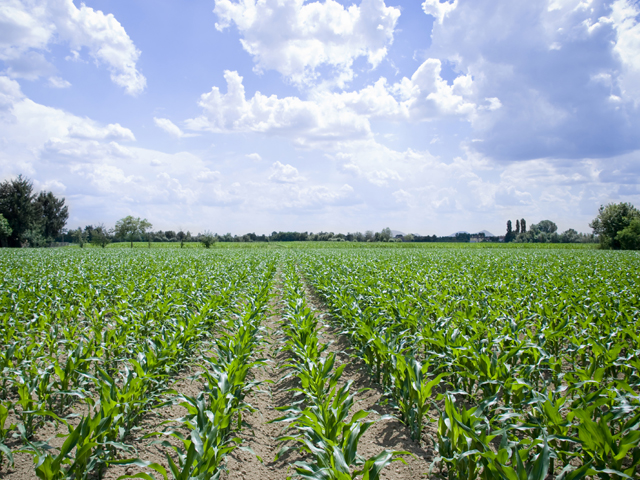 The highly anticipated reports on grain stocks and planted acreage took traders and farmers on a wild ride Tuesday.
After the USDA released lower than anticipated figures for corn acreage (88.9 million versus a trade estimate of 89.3 million) and corn stocks (4.447 billion bu. versus a trade estimate of 4.555 billion), the markets reacted dramatically.
July corn futures, which hit a 12-month low in mid-June at $3.52, skyrocketed upwards. That contract, which opened at $3.914, gained 30 cents—the daily limit—to hit $4.22, a three-month high.
"Frankly, I was impressed with the way this market sustained its initial rally," said Arlan Suderman, senior market analyst with Water Street Advisory in Peoria, Ill. "Profit-taking and farmer sales pulled prices back from its initial surge, but the market wouldn't break and actually rallied into the close."
Soybean futures also soared on news of lower than expected stocks of 625 million bushels of beans and emerging concerns about planted acreage. While the USDA did raise its aggressively low March estimate of 84.6 million soybean acres to 85.139 million, that's still a slightly fewer acres than the average trade guess of 85.171 million.
Add in the uncertainty about bean acres left unplanted or at risk of prevent plant, and the rally gained momentum.
"Prices exploded higher to levels not seen since just ahead of the January crop report," Suderman said, and he wasn't exaggerating. July soybean futures climbed an astonishing 53.6 cents Tuesday, slipping just a touch from a new three-month high of $10.592 to close at $10.562.
"You could have made a lot of money taking a bet in Las Vegas that we'd never see a 41-cent move in soybeans in the next three years, but here it is," marveled Jerry Gulke, president of the Gulke Group, in a special report with Farm Journal Radio.
What drove that rally, besides the numbers? The patience of farmers and impatience of funds, according to Gulke.
"When traders are short and wrong—and many of the large funds and money managers were short and wrong--they got to get out in order to get long," he explained. "This creates a big problem, and we have soybeans up 41 cents."
Others also commented on the influence of funds on Tuesday's significant market movements.
"When we got these numbers [for corn and soybeans] today, even though they were supportive, they were the trigger to get the funds buying in the market, so we had a very, very big session today," said Dan Basse of AgResource, speaking on a post-report webinar hosted by CME Group. "I think December corn traded 408,000 contracts of volume—I think that's a record—and the funds just came in here and just bought huge amounts and pushed corn to sharp gains," along with soybeans.
It surely qualified as a significant increase in trading activity. The average volume, year-to-date, for December 2015 corn contracts? Just over 57,000.
The smaller than anticipated soybean stocks numbers are also leading the market to question the size of last year's bean crop, estimated at a record production of 3.97 billion bu.
"The data provides even more evidence arguing for the agency to significantly reduce the size of the 2014 crop, likely this fall when the trade is focused on harvesting the 2015 crop," suggested Suderman. "It also suggests that the old-crop soybean surplus stocks will likely drop well below 300 million bushels. We won't run out of soybeans, but it has a significant psychological impact on fund managers growing accustomed to seeing numbers in the 400s."
Traders also may be nervous about the state of the 2015 crops and potential yields.
"The market is probably a little ahead of itself and plugging in a little bit lower yield than what the crop ratings suggest today," said Steve Freed of ADM Investor Services, also speaking during the CME Group webinar. "In the case of old-crop beans, (they may be forecasting) a little bit higher demand than what the USDA has plugged in."
Whatever the details, it does represent an abrupt shift in the market's attitude toward grain and soybean prices.
"Thirty days ago, we were bearish and we didn't need any more acres to be planted in 2016," Freed noted. "This report is going to encourage people to plant more acres—South America, soybeans, global feed grains, even in here in the United States. The farmer has been given a reprieve on prices and will probably think about buying the same amount of acres or even more next year."
What do you think about Tuesday's acreage and grain stocks reports?  Were you surprised by the market's reaction? Let us know in the comments.