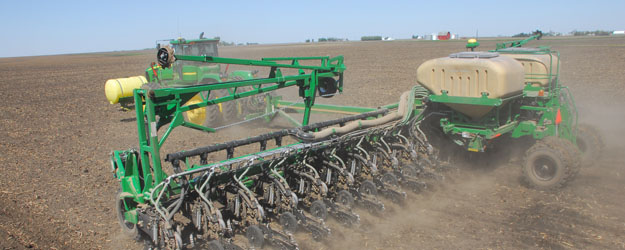 This year's surge in soybean prices is a basic reaction to low supply. Market expert Jerry Gulke says almost 800 million bushels of soybeans are MIA this year, due to low production in South America.
This decreased production, combined with an abundance of acres planted to corn in the U.S. has caused dramatic increases in soybean prices.
See the May 2012 soybean chart:
The Perfect Planting Season
Gulke says the support behind soybean prices made him switch some of his intended corn acres to soybeans. "With corn crashing like it did, I switched over about 10% of my land. I sold about half of that expected crop."
Many farmers, like Gulke, decided the favorable soybean prices were enough to push acres into soybeans.
But, Chris Hurt, a Purdue University Extension agricultural economist, says following
the May 10 USDA reports
the markets are still yearning for more soybean acres.
"Grain markets have been asking for more soybean acres, and that request turned into a plea with the latest USDA updates," Hurt says. "Markets are now in their last-gasp effort to convince farmers to plant more acres of soybeans and fewer corn and spring wheat acres."
Market prices show that there are too many corn and spring wheat acres and not enough soybean acres - something Hurt says some farmers still can take advantage of by shifting to soybeans.
"Many eastern Corn Belt farmers are nearly done with corn planting, but some might be able to shift small acreage," he says. "The greatest acreage-shifting opportunity lies in the western Corn Belt where corn planting isn't as far along. This is especially true in Wisconsin, Iowa and the Dakotas."
Hurt says, in some form, the market would like to see 2-3 million acres shifted out of corn and spring wheat into soybeans.
"Knowing that farmers follow economic incentives and that the economic incentives for soybeans have sharply increased since the USDA last surveyed farmers, it is certainly possible to see that magnitude of acreage shifts when USDA releases their next acreage update on June 29."
The Importance of South America
Gulke says his group is always watching currency relationships. The dollar is making good highs and the Brazilian currency has literally dropped off a cliff, he says, making it very attractive to plant soybeans.
"We could have very well seen multi-year highs for beans at $15, and $12 soybeans will look a lot better to South America growers than it did a few years ago."
There are still lots of unclaimed land in South America that could be planted in soybeans, he says. "You're going to have to rely on South America and give them incentive to plant soybeans."
With the current market prices, Gulke says the incentive is in place.
Listen to Gulke's full audio analysis:
---