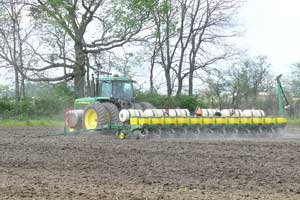 Information courtesy of Archer Financial Services. Contact Scott at 800-933-3996 or 
[email protected]
It was a mixed week in the grains as soybeans and old crop corn values had a positive performance, while new crop corn and wheat prices were lower for the week. The attention in the trade this week was on the rapid pace to corn planting progress.
Heading into this week, corn planting was running at its slowest pace in nearly 30 years. That all changed as the Corn Belt enjoyed drier and warmer conditions. The largest week-to-week jump in corn planting progress occurred in 1992 when 43% of the crop was planted. Some in the trade are looking for that record to be challenged when the planting progress numbers are revealed on Monday.
In more recent years, the largest weekly progress gains have been closer to 30%. This looks more likely, as although conditions were favorable this week, there are yet many acres unfit to plant.
The most impressive trade this week was reserved for July soybeans as they closed nearly $.50 higher for the week and has put together a very impressive chart pattern. Fundamental strength in the soybeans is based on a continuing strong crush rate in the face of near term tight cash supplies.
The strength to old crop soybean values drug November soybeans higher this week even in the face of a pessimistic outlook provided by many in the trade. Look for July soybeans to test the $14.75 level early next week which may pull new crop values toward $12.40 where additional sales should be considered.
We used this week's pullback in December corn as an opportunity to lift hedge protection ahead of what appears to be a wet start to next week's trade. This week the market was squarely focused on the 30-40% that likely was planted, perhaps next week the focus will shift back to the 30-40% left to go.
(click on a chart below to see a larger version)