The following content was provided by meteorologist Gail Martell of MartellCropProjections.com: 
Hard Red Wheat Declines, Scattered Rain Predicted
Conditions deteriorated in hard red winter wheat following a hard freeze last week. Drought continues to be main worry in the 7 top bread-wheat states. Conditions April 20 deteriorated to 31% good-excellent, 35% fair and 34% poor-very poor. This was a season low. Oklahoma topsoil moisture has declined to 41% very short, 34% short, 24% adequate and 1% surplus. Since Christmas, the bread-wheat states have received only 1.95 inches of rainfall against 5.23 inches, normally, for 37% of average. This is an historic drought.
Hard red wheat development is moving forward, though at a delayed pace, due to the hard freeze last week. Only 2% of wheat was heading in Kansas and 10% in Oklahoma as of April 20. Wheat development is 8-10 days delayed due to the persistent below-average spring temperatures.
Rainfall is coming to the Great Plains, but showers are expected to miss the dry western third of the wheat belt. Central Kansas is expecting meaningful rain, however. It would take a lot of rain to turn around a drought-stressed wheat.
Slow Start to Corn Planting, Rain Delays Expected
The Midwest corn seeding campaign is off to a slow start due to cold spring weather. Corn belt temperatures last week averaged 45.4 F and 4.4 F below average. Producers still managed to plant 6% of corn primarily in the southern part of the grain belt. The temperature forecast continues cold in the Upper Midwest, the northern tier of the corn belt in Minnesota, Wisconsin, Michigan and North Dakota. Temperatures in the week ahead would be 40-45 F. Corn seeds germinate with 50 F.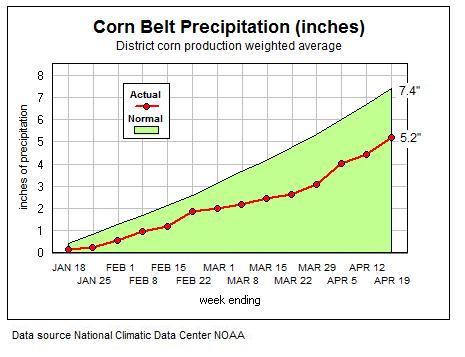 The weather pattern is suddenly wet. Widespread soaking rains are coming to the Midwest and Northern Plains where recurring showers are predicted in the upcoming week. Very heavy rain is predicted in North Dakota, Minnesota, and Wisconsin, 1-2 inches. Another swath of very heavy rain is expected in eastern Nebraska, east Kansas and much of Missouri where 2.5-3 inches is predicted. The eastern corn belt would also get wet in Illinois, Indiana, Ohio and Michigan where 1.5 - 2 inch rains are projected. The Mid South is expected to get soaking rains up to 2 inches.
Have we missed a state? This Midwest forecast is extremely wet, the likes of which we've not seen since last summer. The result will be severe planting delays.
---