The following content was provided by meteorologist Gail Martell of MartellCropProjections.com: 
Brazil Top Soybean State Hot and Dry
Mato Grosso has been unusually hot and dry in October. The rainy monsoon is delayed. Without daily showers the tropical sun is causing hot temperatures. Highs near 100 F were common last week in the key center-west area where soybeans are heavily cultivated. Ordinarily the rainy monsoon is underway by mid October, but this season is delayed.
Not only is Mato Grosso dry but also other tropical farm states Goias, Mato Grosso do Sul, Minas Gerais and Sao Paulo. If soybean planting is severely delayed it would have repercussions for the winter corn, planted after the soy harvest is finished. Last year, Mato Grosso contributed heavily to Brazil's record corn production, due to an enormous expansion in the planted area. Growers were able to increase corn plantings because soybeans got harvested ahead of schedule from early seeding dates.
The forecast continues hot and dry in tropical farm states. Parana and Rio Grande do Sul in South Brazil are expecting more rain. The moisture is especially welcome in Parana. Drought had grown very severe following a dry winter in South Parana causing a 200 millimeter (8 inch) deficit.
Heavy Rain Last Week in South Brazil
Parana received very heavy rain last week that eased serious drought. Rio Grande do Sul also got good moisture keeping fields well moistened for spring planting. Parana had been extremely dry, the main corn state and second most important soybean grower in Brazil.
Recurring showers developed on the weekend in South Brazil, adding to already heavy totals up to October 26. A trough of low pressure had stalled out across southern Brazil, also producing favorable rains In neighboring Paraguay.
Temperatures have moderated in South Parana, where heavy showers have occurred. However, North Parana has continued hot along with other tropical farm states.
Argentina Still Too Wet
The corn belt in Argentina has been slammed with very heavy rainfall in October. The consequence is that corn planting has been delayed.
The Argentina weather service reports that from October 11 to 22 a rainfall surplus of 25-50 millimeters occurred (1-2 inches). Since then, additional heavy rain has occurred with another 50-100 mm (2-4 inches) of rainfall last week.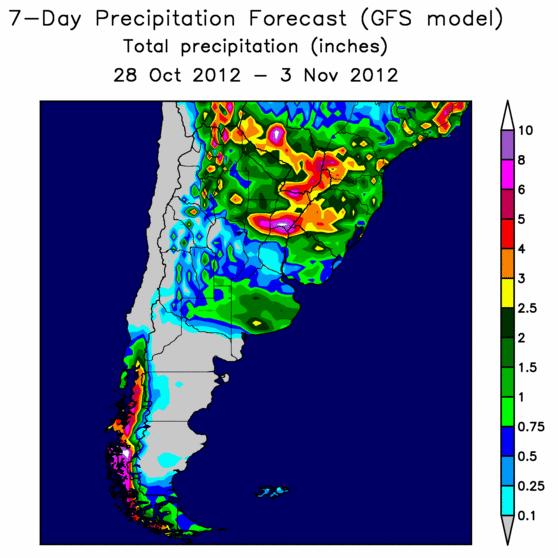 The window on corn planting closes in November. Buenos Aires in the south is especially prone to reduced corn plantings, due to its cooler climate.
Planting into soggy fields increases the chances for shallow-rooting. Soil particles become compacted from standing in water. When soggy fields bake in the sun, a hard pan develops preventing deep root development. Ironically, this may increase vulnerability to drought in the summer, if the weather suddenly turns hot and dry, as shallow-rooted corn would not reach the deep soil layer.
The Argentina forecast is cool and wet in Buenos Aires province once again this week. Cordoba and Santa Fe would be somewhat warmer and drier, the other 2 main corn provinces. It would take several days of drying for planting to resume, however, after last week's heavy rain.
---