The following content was provided by meteorologist Gail Martell of MartellCropProjections.com:
Drought intensified in Central United States last week, worsening prospects in the top three Midwest corn states of Iowa, Illinois and Nebraska. Conditions were extremely hot under a dome of high pressure.
Showers were diverted across the northern United States around the large, dominant ridge of high pressure. Rainfall was rather scattered in South Dakota and Minnesota. Heavier rain developed in the Great Lakes region in Wisconsin, Indiana and Ohio.
Fort Wayne, Indiana, received more than 2.5 inches of rainfall -- the first important rain in more than 60 days. There is still a large moisture deficit over the long run.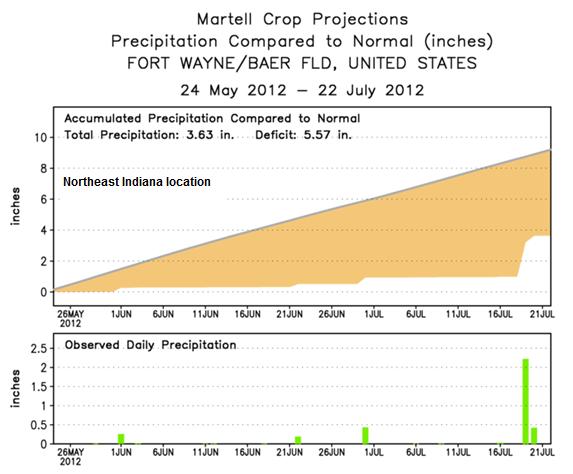 Rockford, Illinois, has experienced above-normal temperatures every day in the past month. The mean maximum temperature anomaly was +5.5°F, which set a record.
The extreme heat is reducing the effectiveness of rainfall, due to extremely high evaporation when temps are above 88°F. Warm nights have also been detrimental as crops have been unable to rest. Corn actually loses biomass during warm nights due to higher respiration. Night temperatures last week were 2° to 5° F above average in the Corn Belt.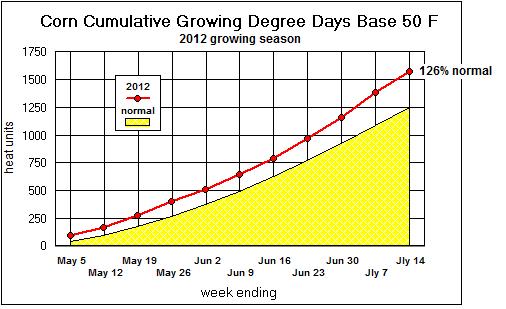 Compared to 1988, summertime heat has been a virtual match. However, Corn Belt drought in 1988 was more extreme with 55% of average rainfall from May to mid-July, compared to 67% of normal rainfall this year.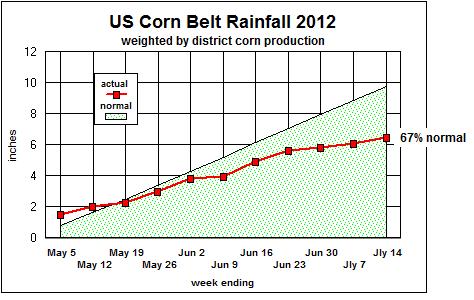 Weather Forecast
Rainfall is expected to increase this week in the Midwest. An intense storm system tracking across southern Canada would weaken the dome of high pressure in the United States, while also pushing it west to a new position over the Rocky Mountains.
Below are jet stream forecast maps, showing these developments. As high pressure gets flattened, it moves westward, opening the door for heavy rainfall in the Midwest corn and soybean areas. A significant trough is expected to develop over the central Midwest.


A solid inch of rainfall, but up to 2.5 inches, is predicted for 75% to 80% of U.S. corn and soybean fields. Normal weekly rainfall is around one inch.
But if high pressure puts up a battle and holds sway, rainfall in the Midwest may be less heavy and extensive.
The Climate Prediction Center's 6-10 day forecast July 28 to Aug. 1 calls for average to above-normal rainfall in the Midwest. However, the 8-14 day outlook suggests the heat dome may rebuild in the Midwest.