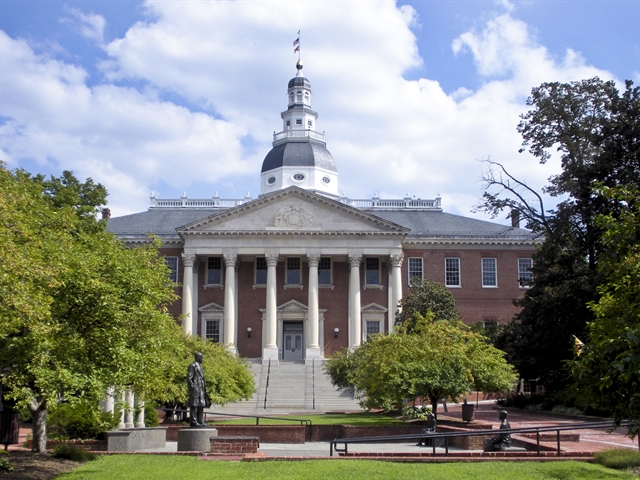 Maryland Gov. Larry Hogan, making good on a previous campaign pledge, announced a plan Monday to address fertilizer regulations that farmers say are hurting their business.
The Republican governor outlined his Maryland Agriculture Phosphorous Initiative at a news conference, saying it contains "enhanced" " phosphorous management regulations to help keep fertilizer pollutants out of the Chesapeake Bay.
"This initiative will go much further than any previous proposal to date, to ensure that the changes we are instituting are sustainable, will do more to improve the health of the Bay, and won't cripple our ag community," Hogan said. "Like everyone else I want to clean up the Bay, but I reject the idea that we must destroy a way of life on the Eastern Shore in order to make that happen."
Hogan said his enhancements build on the proposed regulations under former Gov. Martin O'Malley's administration. A bill with similar regulations to the O'Malley proposal has been sponsored by Sen. Paul Pinsky, D-Prince George's County, and is scheduled for a hearing Tuesday.
The four proposed changes to the regulations including pushing back a seven-year implementation schedule by one year, placing an immediate ban on the use of any additional phosphorous on fields with already high levels of phosphorous, addressing excess manure issues and creating a database of soil phosphorous conditions.
The governor said the larger agricultural initiative also contains plans to conduct a pilot program to evaluate the economic impact of the regulations, as well as providing additional resources for the agricultural department to help offset economic impacts on farms.
Hogan said he was willing to commit to a "substantial financial commitment" in this fiscal budget, but did not elaborate on a dollar amount.
"These are common sense measures which achieve what the environmental community has long sought," Hogan said, citing an immediate reduction in in the amount of phosphorus pollution in the Bay and a long term strategy to address the problem.
But Alison Prost, Maryland executive director of the Chesapeake Bay Foundation, said her organization was only briefed on the regulatory package in the last few days and was waiting to see the complete initiative plan.
Similarly, the Maryland Clean Agriculture Coalition said it was only informed of the initiative Monday.
"Until we see those regulations, and evaluate them, we cannot say whether or not they are what we need to get the job done," the coalition said in a statement. "We would of course be concerned about any additional delays, loopholes or contingencies."