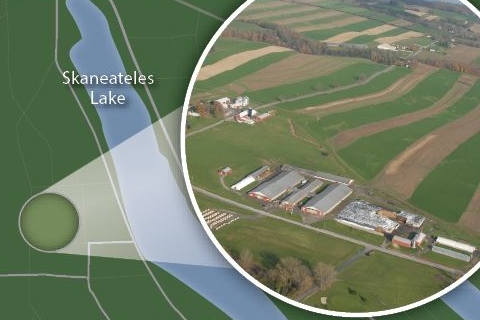 Squeezed between non-farm neighbors and two important lakes, New York's Dirk Young manages his dairy's everyday risks.
As long as Dirk Young's dairy maintained an old-fashioned, red-barn image, his neighbors didn't give his farm a second thought.

But when Young expanded his herd and built a modern milking parlor and freestall barn in the 1990s, the manure-odor complaints began.

Squeezed into a three-mile-wide sliver of land close to million-dollar, lakefront homes, Young has learned how to walk a tight rope to succeed in the dairy business while remaining a good neighbor.

Young's Twin Birch Dairy milks 1,240 cows on 2,500 acres near Skaneateles, N.Y. His family has been dairying on the hilly site since 1960. On the farm's west side sits Owasco Lake while Skaneateles Lake borders to the east. Both lakes supply drinking water to nearby towns and cities, including Syracuse.

In his "landmark" year of 1990, Young doubled his herd to 500 cows and consolidated his two conventional red barns to a double-12 milking parlor. In 1998, he built a freestall barn and doubled his herd size again. That's when his environmental challenges began in earnest.

By then, lakefront houses on each side of Young's farm had evolved from summer homes to year-round residences. People were now living full-time along the lakes, many making the 30-minute commute into Syracuse and Auburn each day for work.

"Many neighbors have a lot of time on their hands, are well-heeled and think they know your business better than you do," Young says. "It's good to be ahead of them."

To address odor complaints, Young built a remote manure storage site on his property. He located it up a small road on a hill, where odors would remain less obtrusive. It's 7,500' from his barn to his storage site, with a 220' elevation rise.

He also installed a separator to divide manure solids from liquids. The dairy uses the separated solids for cow bedding while the manure liquids are transported to the storage site via an underground pipeline. Using drag-hose technology, Young can spread the liquid manure over 2,200 of his 2,500 acres. The pipeline has been a win-win situation for the dairy and its neighbors.

"We have no heavy equipment on the roads. It's very efficient, and our neighbors don't know when we're spreading," Young says.
| | |
| --- | --- |
| | "We want to be perceived as an asset, not a liability, in our community." —Dirk Young |

Despite his best efforts, Young has dealt with unexpected consequences. In 2007, the manure
pipeline burst, spilling 7,000 gal. of liquid manure into a creek that feeds into Owasco Lake. Although Young and his crew immediately blocked off the creek and started pumping from it, they realized they didn't know which official agencies or specific phone numbers to call. Eventually, Young contained the spill, paid a small fine and learned a hard lesson in preparedness.

"We immediately developed standard operating procedures for an emergency with the right numbers to call," he says.

In 2002, Young built an anaerobic digester, but it brought problems from the start. "We struggled for nearly 10 years before we re-engineered it. I'm quite happy with the digester now," he says

Today, the digester is not only one more tool to reduce manure odors but also produces
225 kW of electricity. The farm and dairy use the power, and if there's any left over, it's pushed to the energy grid of a local utility.

"I would give Dirk Young an A for his environmental program," says Mark Burger, executive director of the Onondaga County Soil and Water Conservation District. The organization helps area farmers voluntarily implement best management practices for conservation.

Twin Birch Dairy is one of 16 dairies in the Skaneateles Lake Watershed. In 2002, Young's operation was named Conservation Farm of the Year for Onondaga County.

"Dirk is a leader and an innovator in the agricultural community," Burger says.

Young's efforts to remain viable haven't stopped at placating odor-sensitive neighbors. He's taken progressive steps in other areas of his operation as well. Young has branched into yield monitoring and narrow-row crops for forages. The dairy has implemented genomic testing of its heifer calves.

Young also joined 20 other local dairy producer-owners to build the new Cayuga Milk Ingredients plant, which went online in October.

"It's a way to control our own destiny," Young says. "It's a big step for us."

The Cayuga plant, located 12 miles from Twin Birch Dairy, will produce ingredient products with a starting daily capacity of 2.2 million pounds of milk.

Driving the plant's formation were the high hauling costs of 92¢ per cwt that Twin Birch and other local dairies were paying to transport their milk. Young expects those costs to drop by about half with the new plant. Founding members also wanted to vertically integrate and have more control over production. "Land is more expensive and there's not a lot of opportunity to buy it," Young says. "So, dairy expansion is harder."

Looking to the future, Young has set up a "dynasty trust" to ensure the farm he built will endure. Faced with burn-out five years ago and aware of the need to plan for the next generation, Young entered what seemed to be "a never-ending struggle" of estate planning. Eventually, he found three younger partners—none of whom are family members—who will run the dairy.

"It's worked out really well," Young says. "It's a way to keep the farm, just with different families. In 20 or 30 years, their job will be to find the next generation to take over."

Young's decades of work have paid off. The dairy's milk production has grown 8% per year since 1998. With the farms future assured, he continues to work at being a good neighbor.
"I was always passionate about farming," Young continues. "If I had it to do all over again, I'd still go
after agriculture."