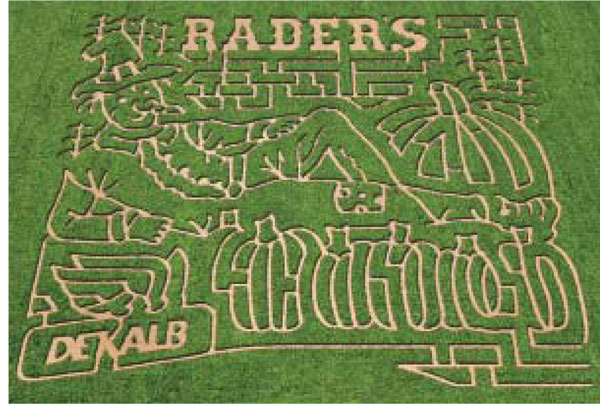 Corn production takes a turn for tourists
Farmers find contentment in standing in the middle of a corn field—with blue sky overhead and the quiet rustle of leaves. But it's not just farmers who enjoy it. Herds of people revel in the challenge of a corn maze, and the extra activity is creating new revenue for farmers.

When it comes to choosing a variety best suited for the rigors of a corn maze, Mike Shryock of Shryocks Callaway Farms near Columbia, Mo., pays particular attention to stalk strength and standability. "It's nice to get a variety a little taller, but there is always a chance of wind damage and down corn," he adds. Shryocks' 15-acre maze and their picturesque red barn welcomes more than 15,000 visitors each year.

Just a few miles away, the University of Missouri Bradford Farm hosts a 2½-acre corn maze. "We try to use as longest day as possible corn because we like it to stay green as long as possible. We go with 120-day corn for central Missouri," explains Extension researcher Tim Reinbott. 

Making a corn maze is more than just cutting a path—each stalk is planned and precisely cut. 

"We plant the corn in two directions, like a big grid," Shryock explains. "Whatever population we are shooting for, we cut our planter rate in half and plant in two directions. It's more fun to walk through the maze when you are not looking down the rows. It also discourages people from walking through standing corn."

"You want to plant a fairly high population—38,000 to 44,000 seeds per acre," Reinbott adds. "We've tried to go higher than that, but it doesn't help really. We've also looked at 30" rows versus 15" rows, but both seem to perform about the same. We thought if we planted the 15" rows we'd get less people cutting through, but there was some pulling apart within the row, so it didn't seem to make a difference."

When it comes to cutting the maze design, GPS simplifies the process. "You can almost lay aerial photos and GPS maps on top of each other," Reinbott says. "They are within inches of each other."

Irrigation is an important component for Shryock and Reinbott in mid-Missouri for the necessary height and to ensure a dense, healthy stalk that lasts through the fall tourist season.
---
Want to Start a Maze?
Adam Rader of Rader Family Farms shares the following tips to building a successful corn maze: 
To get a large volume of people in a short fall season, locate the corn maze near a larger town. "Our biggest asset is where we are located. We're just ½ mile from Normal, Ill., city limits," Rader says.
Work with schools and educational centers to reach a larger clientele. 
Keep the maze design simple. Avoid large open areas in the maze and so many pathways that you can see into the next path.
Plan out spaces for other attractions, such as hay rides, barn activities and animal exhibits. Create a traffic flow ahead of time.
Do a legal check. "Check with local zoning boards," Rader encourages. "We finally got our local zoning board to write an agritainment ordinance allowing for future buildings, food and other activities."