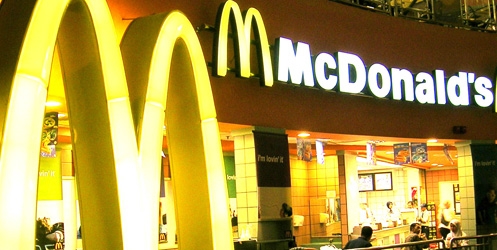 McDonald's Corp., facing its worst U.S. sales slump in more than a decade, is turning to customized menu items in a bid to lure more millennials and shake off its reputation for selling outdated fast food.
To offer more choice, McDonald's is expanding a build-your- own-burger concept called Create Your Taste. The program, which began at a handful of restaurants in Southern California, lets customers pick out toppings such as jalapenos and tortilla strips using a touch screen. McDonald's is adding chicken to the project and bringing it to five more states.
The world's largest restaurant chain posted a 4.6 percent drop in U.S. same-store sales for November yesterday, marking the steepest monthly decrease since June 2001 -- as well as the 12th-straight month without growth. That's putting pressure on Chief Executive Officer Don Thompson and U.S. President Mike Andres to revamp operations in the company's biggest market.
"The company's on a very short leash at this point," said R.J. Hottovy, an analyst at Morningstar Inc. in Chicago. "We need to see a fairly solid update within the fourth-quarter results. Otherwise, pressure from shareholders could be more pronounced."
Yesterday's sales report sent McDonald's stock on its worst one-day tumble in more than two years. The stock dropped 3.8 percent, bringing its year-to-date decline to 4.6 percent. It fell an additional 1.5 percent to $91.20 as of 11:09 a.m. today in New York.
Chipotle Competition
McDonald's has about 14,200 restaurants in the U.S., more than any other market. While it remains the nation's largest burger chain, the company has struggled to stay relevant with millennials -- people in their 20s and 30s who have shunned the one-size-fits-all model of traditional fast food. Fast-casual restaurants like Chipotle Mexican Grill Inc., meanwhile, are picking off young customers.
"Today's consumers increasingly demand more choice, convenience and value," Thompson said in a statement yesterday.
The Create Your Taste program will expand to about 30 restaurants in California, Illinois, Wisconsin, Georgia, Missouri and Pennsylvania in coming months.
"The goal is to have 2,000 restaurants testing this concept by the end of 2015," said Lisa McComb, a spokeswoman for Oak Brook, Illinois-based McDonald's. "We want to gather valuable feedback about this test from a variety of customers across the nation."
Even if McDonald's can customize its menu, the company faces a challenge on another front: price.
Losing Ground
McDonald's has lost its reputation as a low-cost food option, said Will Slabaugh, an analyst at Stephens Inc. in Little Rock, Arkansas. Competitors like Burger King Worldwide Inc. and Wendy's Co. are offering more compelling discounts and promotions, luring customers away from the Golden Arches.
In recent months, Burger King offered a 10-pack of chicken nuggets for $1.49, or 15 cents apiece. McDonald's hasn't been as aggressive, Slabaugh said.
"They've been a little complacent with discounting," he said. "Because of that, they're losing share."
The slump at McDonald's has led to speculation that an activist investor could take an interest in the $90 billion company, attracted by its cash and low debt. That could add urgency to make changes. Analysts have said that McDonald's could purchase more stock and convert stores to franchised locations, where the franchisee pays beef and labor costs.
Flatter Organization
McDonald's is already reorganizing its U.S. operations to be more effective. Andres, who started his career at McDonald's more than 30 years ago, took over as president of McDonald's USA in October. He's revamping the company's marketing and building a "flatter, more nimble organization that ensures key business decisions are made closer to the customer," according to Becca Hary, a company spokeswoman.
Millennial consumers, steeped in foodie culture, are concerned with the origin and quality of ingredients and McDonald's has taken to Twitter, Facebook and YouTube to push back against the perception that the company's food is unhealthy. The effort included a Q&A-style campaign where the company gave "real answers" to customers' questions. (Sample: Is there pink slime in the beef? No.)
It's also counting on additional menu items -- some old favorites, some new -- to get the attention of customers. The McRib sandwich was brought back to about 75 percent of McDonald's restaurants in the U.S. last month, and McDonald's has been offering a $2 jalapeno burger. Still, the chain has struggled to find a hot new traffic-driving item in recent years, Hottovy said.
McDonald's also has challenges that go beyond execution, said Andy Brennan, a New York-based restaurant industry analyst at IBISWorld. Those might be harder to fix.
"Young consumers don't see them as a brand they want to be associated with," he said. "They're not cool anymore."
To contact the reporter on this story: Craig Giammona in New York at cgiammona@bloomberg.net To contact the editors responsible for this story: Nick Turner at nturner7@bloomberg.net