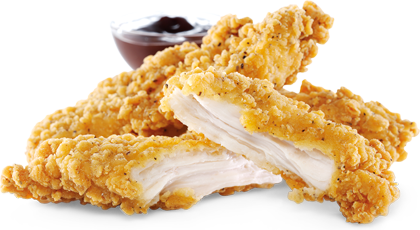 McDonald's Corp. is bringing chicken tenders back to its menu next month in a move that's rippling through the poultry industry.
The item, called Chicken Selects, will begin appearing at U.S. restaurants for at least a limited time in early March, the Oak Brook, Illinois-based company said this week, confirming speculation in the industry. The product, made with fried strips of tenderloin chicken meat, was last sold in 2013 after more than a decade on the menu.
For the poultry business, the move is easing concerns about an oversupply of chicken in the U.S. It also underscores how much clout McDonald's has with suppliers: Though the company is mired in a sales slump and shaking up its leadership, it can still sway the meat industry with a single menu item. The increased demand from McDonald's should help prop up chicken- breast prices through the summer, said Brett Hundley, an analyst for BB&T Capital Markets.
"It's a good thing for the chicken industry," said Hundley, who is based in Richmond, Virginia. "Continuing limited-time offers are definitely a positive for keeping supply and demand aligned."
The chicken industry is in its third year of strong profits, but import restrictions in China and export woes at West Coast ports have stoked fears of a domestic glut, Hundley said. For McDonald's and other fast-food restaurants, lower- priced poultry has helped offset the mounting cost of beef. Tyson Foods Inc. and Keystone Foods are the suppliers for Chicken Selects, McDonald's said.

'Featured Heavily'
"We anticipate that chicken will be featured heavily in food service this year due to the high price of beef and pork," said Farha Aslam, a New York-based analyst for Stephens Inc. "The restaurants are expected to have more chicken features and to run the promotions for a longer than normal period. This is expected to support chicken prices."
McDonald's and Burger King have already waged a price war over chicken nuggets, a lower-cost item than tenders. McDonald's, which has more than 14,200 U.S. restaurants, rolled out a campaign promoting orders of 50 McNuggets for $9.99 in recent months. Its rival is offering nuggets for 15 cents each. Burger King also reintroduced chicken fries for a limited time last year, a move that helped boost same-store sales 3.6 percent in the third quarter in the U.S. and Canada.
McDonald's cut Chicken Selects from its menu in 2013 as part of an effort to streamline its offerings. That was back before beef prices climbed to a record high last year. McDonald's now hopes customers will embrace the return of the tenders, which will be available in orders of three.

Production Growth
U.S. production of chicken broiler meat -- animals that were raised to be eaten -- will increase 3.6 percent to 39.5 billion pounds, the Department of Agriculture forecast last week. The increased production has raised questions over whether profit margins will suffer, Hundley said.
"Investors are concerned the chicken industry is going to oversupply the market as it has historically done," he said.
While fast-food chicken promotions have helped ease those concerns, burger chains definitely aren't abandoning red meat. McDonald's is expanding a new custom-burger system to more U.S. restaurants this year. It also has promoted an offer of two Big Macs for $6.

Burger Options
Burger King, which posted same-store sales growth in each quarter of 2014, credited three new menu items with fueling the gains. Of those, two were cheeseburgers and both were limited- time promotions: the Extra Long BBQ Cheeseburger and the A1 Ultimate Bacon Cheeseburger. The third was chicken fries.
McDonald's is trying to get back on track after its worst slowdown in more than a decade. The company said last month that Steve Easterbrook, currently senior executive vice president, will replace Don Thompson as chief executive officer on March 1.
Easterbrook, a Briton who started at McDonald's in 1993, is facing a more competitive market -- both from traditional rivals and newer fast-casual chains like Chipotle Mexican Grill Inc. and Panera Bread Co. Visits to fast-casual restaurants grew 8 percent in 2014, according to Bonnie Riggs, a restaurant industry analyst at NPD Group.
Fast-food chains, in contrast, are seeing little growth in traffic.
"It's really about a battle for market share," Riggs said. "Flat growth is the new normal."