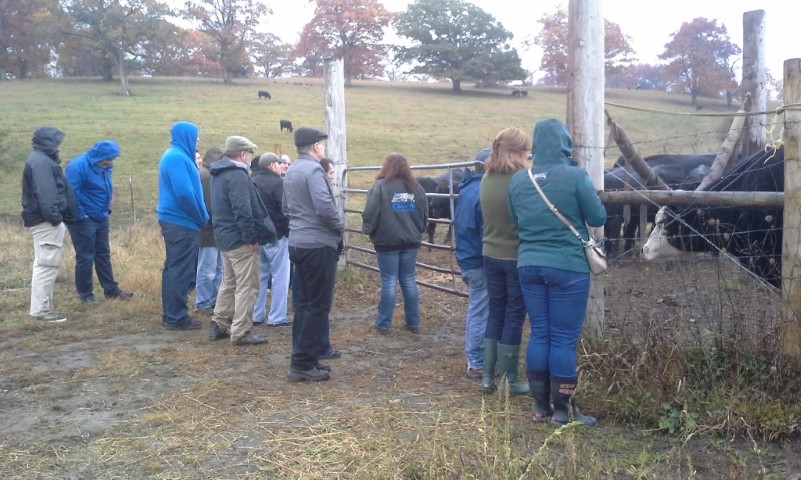 As part of its Northeast Beef Promotion Initiative (NEBPI), the beef checkoff hosted a "Meat Your Beef" channel influencer immersion event at the Gibbet Hill Cattle Company in Groton, Mass., on Nov. 6 for the chef instructors and educators at Le Cordon Bleu College of Culinary Arts in Cambridge, Mass.
The experience started with an in-depth look at maximizing the value of beef in foodservice by exploring new ways to menu mainstay steaks. Kari Underly, Founder and Principal of Range Inc., and author of the James Beard nominated "Art of Beef Cutting", started the event with a beef cutting demonstration of the beef ribeye roll and top sirloin to highlight the added value of menuing mainstay steaks to enhance profit. A cutting of the beef chuck roll was also demonstrated to highlight the value-added Sierra Cut, Denver Cut and Country-Style Boneless Ribs. In tandem with the beef cutting demonstration, Le Cordon Bleu attendees also had the opportunity to taste the Ribeye Cap, Petite Ribeye Roast, Top Sirloin Cap/Coulotte Roast, Sierra Cut and Denver Cut and for many, that was their first tasting of these new value-added beef cuts.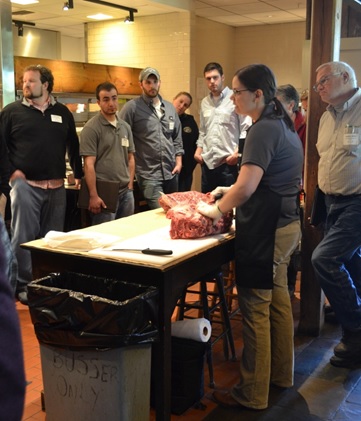 Mike Baker, Beef Cattle Extension Specialist at Cornell University, led the afternoon beef tour with a discussion about beef from pasture to plate and the differences of beef choices available to consumers today. A tour of the Gibbet Hill Cattle Company, owned and operated by Paula Cruz, provided the channel influencers with a unique opportunity to see a modern-day working beef farm literally from pasture to plate. All the calves born on the farm are retained for finishing and are direct marketed through the farm's retail market, SpringDell Farm Market located in the neighboring town of Littleton, Mass.
Chef Earle Test, the Director of Education and Executive Chef at Le Cordon Bleu College of Culinary Arts in Boston, commented following the tour, "We decided to come out today to help our faculty understand more about food and where it comes from so we can share that information with our students and can help them achieve more in their careers."  Chef Test went on to say, "We all have a better appreciation for the way the whole system works from start to table. This is all helpful information to share with our students."

Source: Cattlemen's Beef Board