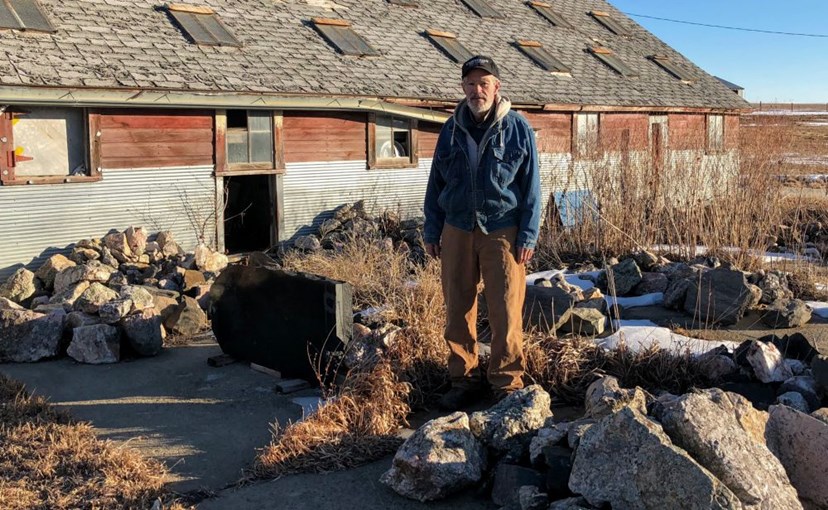 The boy always walked head-down across his farm, scanning the ground for another arrowhead, fossil or fine piece of quartz. Over 50 years later, the man still follows the same paths across 1,200 acres of farmland and pasture, neck bent and eyes in the dirt, hoping to find one more piece of the past.
Against a picturesque prairie backdrop, Terry Springer grows corn, soybeans and alfalfa five miles southwest from the banks of the Missouri River. Springer farms in south-central South Dakota, surrounded by a mix of rolling hills and bluffs, a short jump from the Nebraska border. Whether crops, rocks, fossils or Native American artifacts, Springer is a man possessed by his dirt.
Pointing across a pasture and a host of prairie rattlesnakes hidden within, Springer couldn't be more content to live in the back of beyond: "I have friends that tell me there's nothing out here and they are exactly right. If you want Walmart or restaurants, then you're in the wrong place. I'm in Dances With Wolves territory and this western prairie is part of who I am."
Springer, 65, can't remember a time when his gaze wasn't fixed to his feet. "It started when I was a small kid picking up generic specimens of quartz and feldspar. I can't really explain why and I'm not completely sure myself. I was surrounded by the outdoors and farming life; maybe it triggered something inside me. One thing for sure, I gained a permanent crick in the neck from looking down all the time."
Walking a gravel road to a country school each day during childhood, Springer scoured the shoulder for fossils. Even his farm chores became a means to hunt rocks. "I'd always volunteer to chop thistles on some of our hilly ground, and then I'd hunt all day while I worked," he remembers. "If I was cultivating, I'd still have my eye out for rocks."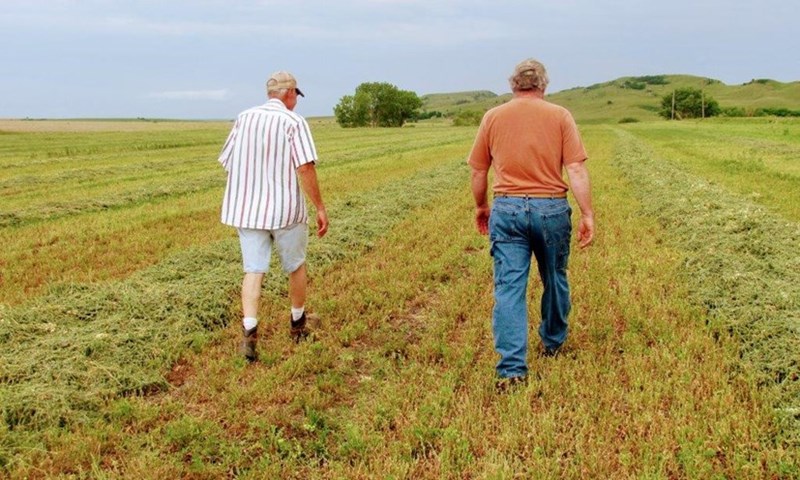 A lifetime later, Springer has amassed a trove of ice age bones, teeth, petrified wood, stone tools and a host of unidentified geological specimens. The collection lines 2'-by-8' and 2'-by-12' shelves in several old, wooden granaries, with additional pieces scattered in the farm yard or held on a large cement pad once used to raise hogs. Springer has garnered a wealth of rock-hound knowledge about his finds, but takes the most promising specimens to the Black Hills Institute of Geological Research in Hill City for identification. "It's hard to judge, but I'd say mammoth hip bones and saber-toothed tiger fangs are definitely unique finds. I don't have museum-quality items, but they're special to me," Springer explains.
Straightening the Snake
Each year, erosion draws a treasure map for Springer, even though his farmland is no till. In the 1950s, Gregory County rebuilt a small road that wound around the rolling hills of the Springer land. Despite protests from Springer's grandfather, the county bulldozed a cut directly through the hills and pasture, essentially straightening the snake and inadvertently exposing a major fossil source. "As a farmer, I hate erosion, but for hunting rocks, erosion is key," Springer says.
When Springer isn't on a tractor or tending livestock, he heads for the cut, particularly after rainfall. The cut is composed of crumbly deposits, and on the right day, Springer finds bones jutting from the exposed hillside or laying below in a washout. He carries no backpack, hammer or shovel—just a sharp eye to pinpoint anomalies. "I've developed a knack to look for anything out of the ordinary in the cut, something hidden and distinct at the same time. Then again, I've found some of the finest specimens directly on our farmland when they were almost impossible to see."
Springer farms alongside his younger brother, Wayne, who says Springer was obsessed with rocks from an early age: "Ever since we were small kids, Terry wanted to find rocks. I can still remember walking down the road: While I picked up rocks to throw, he was always hunched over, picking up rocks to keep."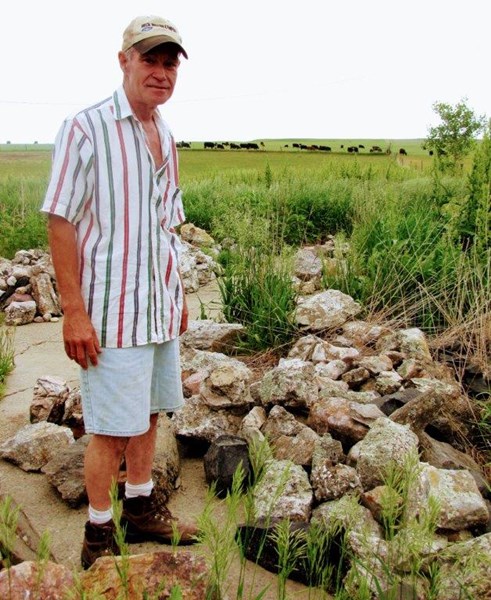 "Terry would look for arrowheads too, because the Sioux were prevalent in this area. Even into the early 1900s, when my grandma was little, a group of Sioux lived only a mile from the farm in teepees. Looking back, it's really not that long ago," Wayne adds.
Springer's Native American artifacts are far less extensive than his fossils and bones, mainly limited to points and scrapers. Another category of Springer's collection, although limited to a few samples, may be his favorite: On top of several weathered buttes, he finds fulgurites—cylinders made of sandstone. "Who knows how long ago, lightning struck the ground. The bolt's path melted and fused the sand, and after everything else eroded, I found what is left behind. Fulgurites are really a cast of a lightning path," he explains.
Holy Grail
Although he'll never be able to pick it up, Springer has already found his Holy Grail item. Beginning in the late 1980s, during an interlude off the farm, Springer attempted to start a mining operation in South Dakota's Black Hills at an abandoned gold mine in an area controlled by the Bureau of Land Management (BLM). He tried to access a vein going down thousands of feet containing millions of tons of high-quality amphibolite. The black metamorphic rock, often used for monuments and gravestones, is typically imported from Africa or Asia.
Springer took bore samples and carried specimens to several monument companies: "They were highly impressed, but there was a major hitch. I could only produce 5'-6' blocks, but they had to have a common size of 17' blocks."
After four years of navigating innumerable government regulations and churning through a series of credit cards, Springer decided the black rock was his black whale: "I walked away and gave up that dream. I was really a farmer with some credit cards anyway. The fact of government land coupled with the block size put the project out of my financial range. I was out of my league in many respects, but I gave it my best shot and greatly enjoyed the opportunity to experience living in the Black Hills."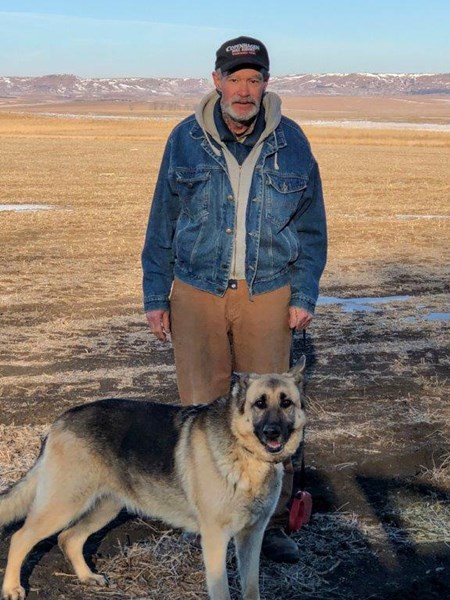 The Last Find
Springer is a humble man, always excited to uncover another artifact and share his findings. He sometimes shows the cut to geologists, school groups and rock clubs. History, education, childhood, and farming, Springer says fossil hunting runs through the layers of his life: "When you get to look and learn at the same time, you can't help but appreciate what is hiding around farmland. Farmers have to pay bills and don't always have time to look in the dirt, but I bet a lot of them would be surprised if they really knew what they were standing over."
"I've done this since I was a kid and I'll never stop until I make my last find," Springer adds. "These rocks and fossils are simple parts of my life, and one thing for certain, they'll always be a part of this farm."
For more on what's forgotten beneath the dirt, see The Secret Life of Farmland Marbles