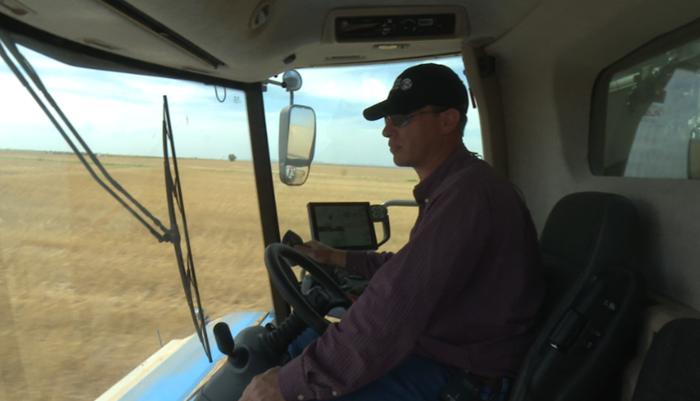 Top Producer Magazine awards a young producer under the age of 35 every year who demonstrates excellence in marketing, technology, environmental stewardship and family and employee relations. The 2017 Tomorrow's Top Producer Horizon Award is given to Cody Goodknight of Chattanooga, Okla., who is striving at keeping tradition while creating innovation.
Swaying wheat waits to be cut as the hum of Cody Goodknight's combine rolls through these Oklahoma fields.
For him, harvest is not routine – it's tradition. This family has worked these soils for five generations. 
"It's in our blood," Cody says. "We can't get rid of it. It's something we really, really enjoy."
The Chattanooga producer who holds the reins of Goodknight Farms is busy working with his crew. Nearby sits a man who farmed before him. 

"I never get away from it," says John, Cody's father. "It's a 'I'm not in charge anymore' sort of situation, but I sure enjoy observing." 

John pioneered the farm's foray into wheat, cotton, sesame, sorghum, soybean and grasslands for their cattle. He was one of the first in the community to no-till, curious about conserving moisture and maintaining his soil during these dusty Oklahoma seasons. They are lessons Cody inherited, passed on from his father's passion. 

"Not only has Cody followed in my footsteps, he's exceeded it," John says. 
"We try not to just coast," Cody says. "We want to always be improving. I learned that from him."
Because average rainfall in Cody's corner of Oklahoma is sparse, Goodknight conserves moisture until the next drop arrives as best he can. The family installed a rainwater capture system on top of the barn. That's water they do not have to pump out of wells.
"Our roof of our barn is 75 by 75 feet and will generate six thousand gallons of water with a one-inch rain," Cody says. 

But the real work starts with never leaving the land bare. Cover crops are helping. 

"One of the reasons we grow it is to help break up compaction," Cody says.  

Goodknight plants most row crops except for cotton in 15-inch rows. 

"The reason we do 15-inch rows is for narrow rows to get the ground covered sooner," he says. "It adds more shade in the ground."

They use stripper heads during wheat harvest, taking grain and leaving the straw standing. 

"Another big benefit is just shade, wind and water erosion protection for us in no-till versus having the straw cut and left bare," Cody says. "Right now, we are harvesting about seven miles per hour. With the conventional header, we're harvesting three-and-a-half to four miles per hour." 

While Cody has grown these visions, he had a nice jump start. Father John developed a certified seed wheat business which has been a staple of the operation for more than 25 years. Annually, roughly 40,000 bushels of seed is sold to 50 growers. The number fluctuates depending on the market and demand. 

"It certainly gave us a niche in the market," Cody says. "Our seed wheat price doesn't fluctuate as much as normal commodity prices and it gives a premium for our wheat." 
 
Goodknight saw how his dad added value in wheat and wanted to mirror similar successes with the livestock side of their business. He evolved and changed the cow-calf operation to using artificial insemination with heifers for high end genetics.
"I wanted to do the same thing with heifers," Cody says. "I wanted to raise seed stock heifers for other people to purchase from me."
It's a decision that's paid off.
"It is a lot more time management to get the cattle ready to A-I," Cody says. "That's not something you can just do overnight."
It's keeping Cody and his crew busy. When they're not in their own fields, they custom harvest wheat and cotton in Colorado, Kansas, Nebraska and Texas. Cody credits delegating while away as the key to managing the chaos.
"Find out what employees are good at and let them do the jobs they're good at," he says. "Take advice whenever they happen to be better at something than you. Don't be afraid to admit that."
Although customers may know the Goodknight operation for business, farming means much more to the family.
Atop these soils, Cody proposed to his fiancé and between the rows, knowledge has passed. It's in these fields at harvest, the family and crew take time, every night to give thanks.

"You just remember what you're fighting for," Cody says.

They park the machinery. It's a moment to slow down.
Cody reflects: "If all you're ever doing is working and slaving away from daylight until dark, what's the point?"

They take time to share a homemade meal and be together.
"We have to remember, there are things more important in life than farming and working in general. We take time to enjoy ourselves and stop to smell the roses, you might say," Cody says. 
 
Farming through Oklahoma's unpredictable weather is not for the faint of heart. They're grateful for each year the wheat dances into harvest, bringing promise of a future and planting seeds for the next generation.
Goodknight shows heifers at the Southwest Expo Fort Worth Stock Show every year which is one of the oldest livestock shows in the country. His animals have placed five of the past six years, and he's even won a Reserve Grand Champion title.
Tomorrow's Top Producer Horizon Award Winner 2017 - Cody Goodknight