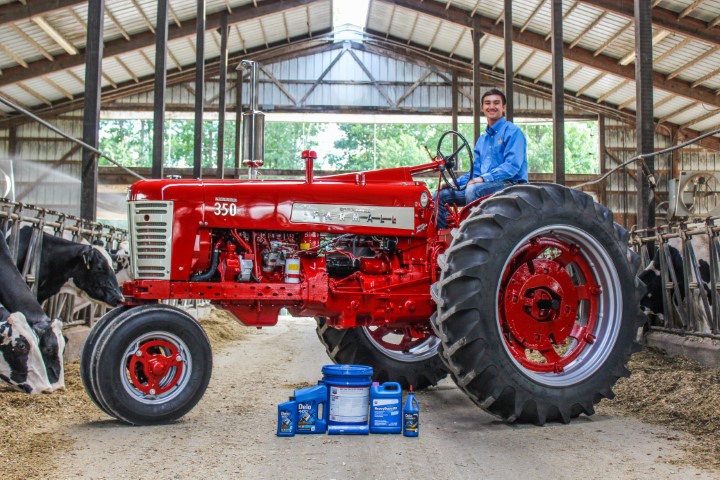 Last year, Austin Haywood did his best, but his best wasn't quite good enough. This year, he doubled down on his hard work and ingenuity and came away the Grand Champion of the 2016 Delo Tractor Restoration Competition.
In 2015, Haywood, a native of Hastings, Mich., who is now a freshman at Michigan State University, got the runner-up prize – Reserve Champion – for restoring a 1954 Farmall Super MTA. In 2016, the winning submission was a restored 1957 Farmall 350 Diesel. He says he spent about 900 hours working on the tractor.
Austin grew up on a 1,200-head six-generation dairy farm in southwest Michigan. He hopes to earn an animal science degree from Michigan State before returning to the farm. He says competing in the tractor restoration contests have proven another layer to his agriculture education.
"A lot of what I learned I'll certainly use later in life, especially when I'm back on the farm," he says.
Also among the dozen 2016 finalists was Haywood's younger brother, Devin (and it's also worth noting his older brother, Ethan, was a 2014 Reserve Champion). Finalists presented their projects to a panel of restoration experts. Each project was graded on its restoration process, safety precautions, results, documentation and quality of their oral presentation. This year's runners-up included Drake Davis from Carwfordsville, Ind., and Carson Rose from El Campo, Texas.
Dan Holdmeyer, industrial and coolants brand manager with Chevron Products Company, says he has become increasingly impressed with the skills on display in this contest.
"Each year, this competition gets tougher and tougher," he says. "All of the finalists were great. We have had the pleasure of watching these students grow up before our eyes and go on to college and successful careers [for the past 21 years]."
Haywood plans to show off his handiwork in area parades. As for selling it? That's out of the question, he says – it has extreme sentimental value.
"It was one of my great grandpa's most prized possessions," he says. "It's such a thrill that all of my hard work paid off."
Click here to learn more about the competition.