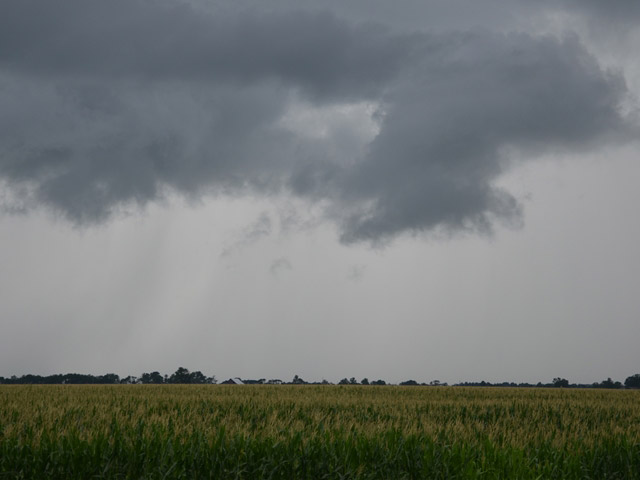 The excitement around weather started this winter, when Weather Trends 360's Bill Kirk made a bold prediction at Top Producer Seminar, comparing 2016 to 2012.
"2016 is 2012 all over again," said Kirk, who forecasts the business side of the weather. "We are going from the strongest El Nino on record, second strongest; we tied it, to a La Nina. So that trend is crashing, so that's a classic drought signature certainly for this year, and even for next year--2017--will be the worst of the drought."
He told audiences while it's a different story this year due to inventories, the weather's shaping up to be very similar.
"The weather is more like 2012, forecasting the hottest, driest conditions in the U.S. since 2012, a little more widespread drought potentially, and then the disaster that's going on down in Brazil," says Kirk.
Since January, his South American forecast held true. The extreme weather hurt production, with drought smothering Brazil's Safrinha corn crop, boosting prices this spring.
"So, bad news coming in March, April, May for those folks down South, and then bad news by about July here," he says. "We'll have one of the hottest Julys in many years in the Corn Belt."
Summer Forecast
While the verdict is still out on his summer forecast, both USDA Meteorologist Brad Rippey  and AgDay/U.S. Farm Report Meteorologist Mike Hoffman are looking at warmer temperatures in July, but nothing record-breaking.
"I think it's pretty likely the entire Midwest, the Corn Belt is above normal, but not excessively so," says Hoffman. "We have these troughs occasionally bringing a cool front just to try to keep things from getting too hot. So, so it looks warm but not overly warm. "
"We are seeing this pattern right now where the extreme heat is mostly confined to the West and Southwest, and in the Deep South," says Rippey. "We're getting enough cold fronts pushing through the Midwest to keep that heat knocked down, so it is warm, but it's not excessively warm. It's good growing weather right now."
Warm temperatures may not demolish the crop, but what about the predictions of a yield-shattering drought? The meteorologists say a repeat of 2012 drought is highly unlikely.
"Neither one of us believe that's probably likely at all, but precipitation is always a lot tougher to forecast than heat is," says Hoffman. "So, you can have pockets that get very dry, but I don't see a large area of drought developing in the Midwest."
Rippey sounds a similar note.
"We've seen some dryness develop over the last 30 to 45 days particularly across the southern and eastern parts of the Corn Belt, but it's not critically dry at this point," he says. "As long as these cold fronts keep passing through from the Northwest to generate showers likely seen over the last week, that should help to alleviate some of the dryness concerns."
The latest Drought Monitor shows dryness continuing to creep up in Iowa, with even extreme pockets of drought settling into South Dakota and parts of the South. Rippey says the pattern we're currently in doesn't favor widespread, heavy rainfall to wipe out drought in those areas, meaning dry conditions could persist in places.
However, it won't be widespread.
"We've gotten far enough into the season, and looking ahead to the next couple weeks, we have a high degree of confidence that we're not looking at big problems in terms of temperatures and only minor moisture problems heading into mid-July," says Rippey. "That leaves another six or eight weeks of summer to go after that, and that's where we have a little uncertainty about both temperature and precipitation forecasts."
"If we can get through the summer with at least adequate moisture, we kind of believe that the heat will linger into the fall. That should help with the harvest at that point, so obviously there's still some things to happen here to really get a decent crop, but it's not looking like a big disaster," says Hoffman.
Rippey says he's never seen so much hype around the weather, already impacting markets. "I can't help but notice that this year, there seems to be (excitement) on every little change on the weather," he says.
Analysts Share Their Perspectives
From an analyst's perspective, that excitement will fuel more volatility in the markets this summer. "We are setting ourselves up for a potential weather market. We've just chased a lot of fund money out of the market," says Mike North of Commodity Risk Management Group. "We've got key growth stages to go through yet, and we also have a situation in South America where they don't have an absolute answer on what their crops are."
"It has to be the combination of those facets coming together, unless the weather would be all of a sudden so hot and dry for all of July and all of August,  it would have to be a devastating 2012 drought, which we're not going to have," adds Naomi Blohm of Stewart-Peterson.
Blohm says that, looking at ending stocks, any impact weather has on yield will move markets.
"If we have yield come in at 163 (bushels per acre), which is trendline, which would still be a fourth-largest record crop, which is still a phenomenal crop, it puts ending stocks down to 1.5 billion bushels for carryout, and that's a really friendly story," she says.
"Weather is going to be a big deal," agrees ProFarmer Editor Brian Grete. "Bears have the momentum on their side. But we also have rains in some of the driest areas of the Southern and Eastern Corn Belt, so as a result, it's going to be a battle for the bulls to get back on their feet in the corn market."
It's the bulls versus the bears, and a year where the bears got off to an early start. 
`