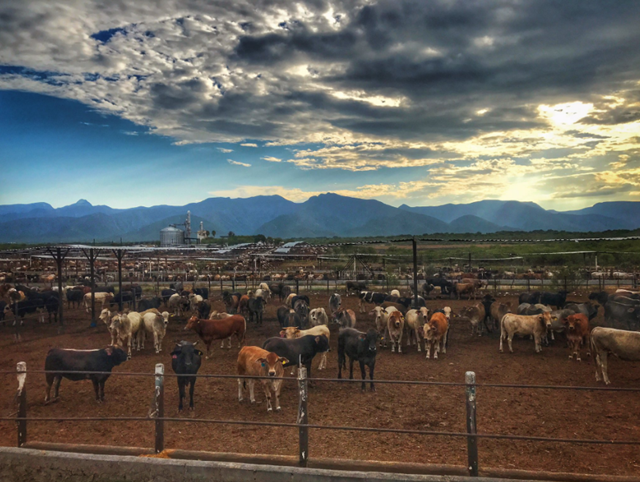 Whether it's loaded and driven, or rolls out by rail, U.S. grains are pouring out of our country and heading for end users in Mexico. 
"We use raw material [such as] corn, sorghum, wheat and cotton seed hulls to make feed for livestock," said Ricardo Elizondo, owner of Forrajera Elizondo, a family-run feed mill in Monterrey, Mexico.
He said the North American Free Trade Agreement (NAFTA) helped make that grain, and in turn their feed competitive. They'd like to buy more. 

"We have a plan for us to grow in 2018 but we're waiting to see what happens with NAFTA before making the investment," said Elizondo.
The plan is a multi-million-dollar decision that is putting their business and future on hold. 
"My children have already started a different business, completely different to my business so they won't have to depend on Mexican policies or American policies," said Elizondo.
About an hour away, tucked into the hillsides near Sabinas, Hidalgo is the Rancho La Joya feedlot where owner Martin Gonzalez also hopes to one day share his business with family. 

"The biggest part of this was my parents' work," said Gonzalez. "It was discipline. It was their hard work and continuity and that's something I want to convey to my children and to my grandchildren."
Since starting with 180 calves 30 years ago, the operation has grown steadily. Today, it's feeding roughly 3,000 tons of corn a month to 20,000 head of cattle. 
"Mexico has the potential to continue growing," said Gonzalez. "We're fortunate to be right next to the number one grain producing country."
It's an advantage in a competitive market where feedlot numbers continue to fall. 
"I'm completely married to NAFTA," said Gonzalez. "It's going to help our country. It's going to help both countries." 

For him, finding feed elsewhere is a problem he'd rather not face. 
"We could look to South America, but it's really not practical," said Gonzalez. "Only if the United States just refused to sell to us, then we might have to resort to that."
500 miles to the south, U.S. grains are satisfying a thirst in Mexico's burgeoning craft beer industry. 
"What is happening right now in Mexico is pretty similar to what happened 25 years ago in the United States," said Jaime Andreu, CEO of Primus Brewery.
It's a growing market for barley farmers in places like Montana. 

"We have 400 Mexican breweries," said Andreu. "80 percent of us import our base malts mainly from the United States."
Free trade between neighbors is helping steep the industry here.  
"If something changes in between the NAFTA relationship between Mexico and the U.S., of course the boom of craft beers in Mexico could be damaged a little bit," said Andreu.  
Since Mexico is one of the largest beer exporters in the world, the impact could bubble over into glasses across the globe. 
"We have to really push our lawmakers on both sides of the border in Mexico and the U.S., to make it fair [and] to make it sustainable in terms of economic development for both countries," said Andreau. 
It's one product, two countries and three Mexican businesses cautiously seeing if their future will include more or less American grain.