Designed specifically for harvesting applications, Michelin introduces the CerexBib tire. These tires deliver high-flexion capabilities while handling the load demands of loading, unloading and transport, and were designed for improved handling and traction for large harvesting loads with minimal soil compaction.
The Michelin CerexBib radial joins the lineup of Michelin's high-flexion tires for front-wheel-assist and four-wheel-drive tractors and self-propelled sprayers. Michelin is the first tire manufacturer in North America to offer a radial that met the Tire and Rim Association's Improved Flexion (IF) classification. Michelin also is the first and only company to offer two tires that meet the industry group's classification for Very High Flexion (VF), meaning they flex up to twice as much as standard tires.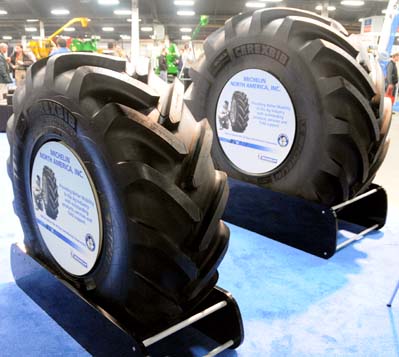 The Michelin CerexBib can be purchased by the axle. The front axle tires are designated as IF cyclic field operation (CFO) and fit on the same rims but deliver a bigger footprint and carry the same load at air pressures of up to 20 percent less than normal tires. The rear axle tires are designated as VF tires. Together, they bear up under the weight of increasingly large combines with 400- and 450-bushel bins, 16-row headers and front-axle weights of 50,000 pounds and still help reduce soil compaction over traditional radials.
The Michelin CerexBib is available as a replacement tire in these sizes:
Front:
IF 680/85R32 CFO 179A8
IF800/70R32 CFO 182A8
IF800/65R32 CFO 178A8
IF800/70R38 CFO 184A8
IF900/60R38 CFO 184A8
Rear:
VF520/80R26 165A8
VF620/70R26 170A8
****************************