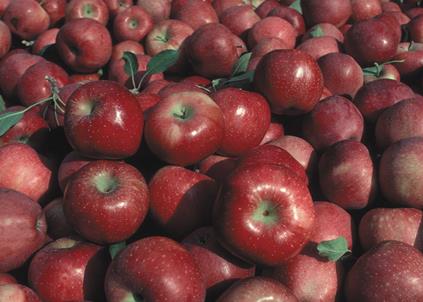 It appears there'll be an abundance of apples this fall. The U.S. Apple Association and the Ag Department are both projecting big crops in most of the big apple producing regions.

Unfortunately, tough weather conditions this past winter and summer are causing some production problems in parts of Michigan, the nation's No. 3 apple grower.



This just might be the year for a big apple crop in Michigan, but for Bryan Bixby with Bixby Farms, this year isn't exceptional.

"It's a fair crop, maybe average. It's a little less than average," Bixby said.

Bixby says his crop was hit with too much rain too early. Seventeen inches poured on his orchard in June. It didn't help July was below average in the Southwest portion of the state, averaging eight degrees below normal.

"So it made things tough getting ground ready to plant. Seemed like we had to spray every three or four days just to keep the scab out," said Bixby.

Bixby usually produces 50,000 bu. of apples a year. This year he added 35 acres to the mix and still thinks he won't reach up to his average bushel amount.

"It would be lucky to get 40,000 bu.," said Bixby.

The rest of the state seems to be doing better than Bixby. The U.S. Apple Association estimates the Michigan will produce over 28 million bushels. In 2013, the state produced 30 million, a state record.

With prices expected to be lower and the southwest Michigan crop a little shorter, that means less cash for Bixby.

"I suspect there be depressed, and less volume here means less money, and that will make a tougher winter," said Bixby.

That's why Bixby has to hope for better weather. That's not just for his apples, but for the sake of his peaches, too.

"All the peaches on this farm froze. That was due to January freezes when we had -20 here for about 12 hours. I think in that time frame, it killed 5 acres of our trees," said Bixby.

Bixby's apple crop may be average, but looking at his peaches, he knows things could be worse.

Some say the yield will keep climbing because of high density trees. Bixby says he plants 250 trees to the acre. High density can be anywhere from 1,500 to 3,000 trees per acre.