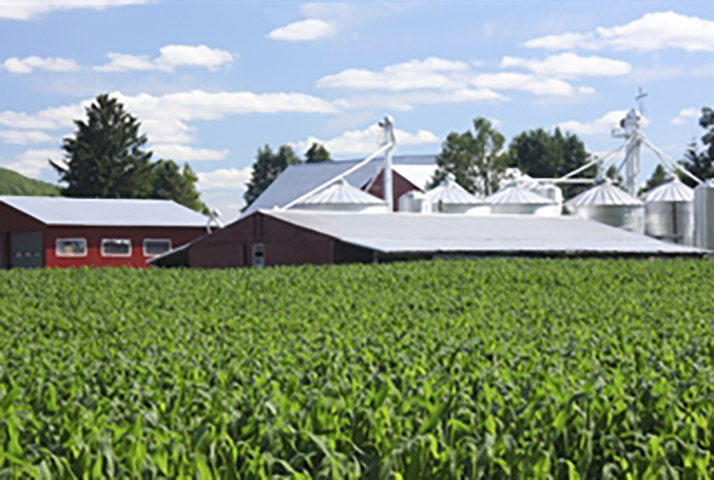 If you think the USDA is full of beans when it comes to this year's acreage numbers, you've got plenty of company. Seemingly everyone-- marketing expert Jerry Gulke, investment firm Morgan Stanley, Informa--seems to think that farmers will harvest fewer acres of corn and more acres of soybeans than expected this fall.
"The Informa acreage estimates on Friday were interesting," admits Dan Hueber of The Hueber Report. "They currently project we will plant 4.325 million acres less corn that the existing USDA estimate for 2014 with a total of 87.275 million. If correct, this would be the lowest planted acreage since 2008."
What's taking up the slack? Soybeans. "First and foremost, [Informa is] calling for planted [soybean] acreage in 2015 to reach 87.652 million acres," Hueber says. "If correct, this would be the first time ever in this country that we would plant more beans than corn."
That could prove problematic for American farmers, given the surge in soybean production elsewhere in the world.
"Argentine farmers are expected to plant soybeans on about 20 million hectares in the 2014/15 crop year, unchanged from the record high set in the 2013/14 season," according to a Reuters report cited by Allendale's Paul Georgy. Chinese farmers are also stepping up their game. "New technology in the field of agriculture has allowed farmers in China's largest soybean producing region to boost yields and cut dependence on foreign growers," increasing yields by an average of 8 percent.
Of course, China still faces plenty of agricultural and economic challenges, due to growing demand for water and an ongoing drought. "Chinese farmers have lost an estimated $1.2 billion this year due to drought, while China has slowed plans to tap its vast deposits of shale gas, which sit in areas with the greatest scarcity … In response to the country's water woes, Chinese authorities have called for solutions that include relying more on imports for foods that require lots of water to produce, such as grains and vegetable oils."
Back in the United States, Kevin McNew of GeoGrain and Grain Hedge is urging caution as the harvest begins for both corn and soybeans. "Trade chatter has been surrounding strong yield reports over the weekend but nothing firm has been announced. No new fundamental stories are pressuring things lower this morning so it looks like a continuation of the large bear move we have seen since June 30th. Our bias continues to be that there is more downside risk in the soybean market than corn even at current prices."

Farm Direction's Kevin Van Trump would agree. Corn and soybean futures may have fallen this week to their lowest levels since 2010, and he doesn't think the pain is quite over yet.
"The yield reports continue to scream record numbers, and more analysts are starting to jump on the 175-plus bushel bandwagon. The bulls keep trying to stop the runaway price wagon from traveling further down the hill by pointing out total corn acres may soon be reduced by as much as 2 million to 3 million," Van Trump notes. "Unfortunately the overall consensus is that most any and ALL of a reduction in acreage will ultimately be offset by higher yield estimates. … The market may appear to be stabilizing, but my hunch is the bears are simply taking a few deep breaths and getting ready to hold their nose before they make a final dive to find the bottom."
As for wheat, it too has been dealing with the pressure of strong global competition. Despite all the unrest in the Black Sea, Ukraine has continued to ship grain, and Russia is expected to harvest its biggest wheat crop in five years. Surrounded by factors like those, wheat prices earlier this month slid below $5 per bushel, which is the lowest level in four years—and Hueber thinks it will stay low.
"I doubt that we will see any rallies become carried away for the time being," Hueber says. "While there is a possibility that we have seen a low printed, I suspect we have weeks if not months of sideways price action in front of us."
Ted Seifried, the chief market strategist at the Zaner Ag Hedge Group, is more optimistic. "with world wheat stocks ballooning, it is hard to get bullish about wheat at the moment," he admits. "But, if export sales were to pick up and we were to challenge the current USDA export estimate, a bull market might not be as far away as some may think."