Farmers continue to face declining farm income in the Midwest and Mid-South regions, according to the latest report from the Federal Reserve Bank of St. Louis. Meanwhile, after holding steady farmland values have edged lower.
Agricultural bankers reported declines in farm income over the first three months of 2019 relative to the same period a year earlier. This marks 21 consecutive quarters with lower farm income. Yet, going forward, some bankers expect farm income to improve in the second quarter.
Since the start of 2017, values for quality farmland in the district have posted year-over-year gains in every quarter expect for three. To start out 2019, quality farmland values fell 0.3% versus year earlier. That followed a 3.4% increase in the fourth quarter of 2018. 
(click image to enlarge)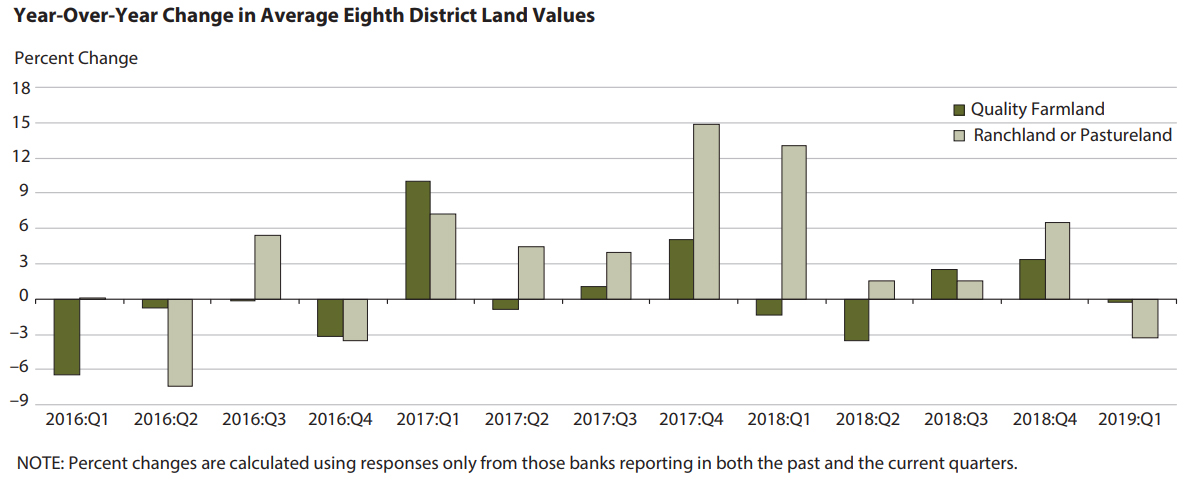 Ranchland or pastureland values also decreased in the first quarter by 3.3%. The decline in ranchland or pastureland values in the first quarter was a sharp departure from the 6.5% gain registered in the fourth quarter of 2018 and a more than 12% year-over-year increase in the first quarter of 2018. 
Cash rents for quality farmland rose 1.5% in the first quarter, following a 2.9% gain in the fourth quarter of 2018. By contrast, cash rents for ranchland or pastureland fell 8% in the first quarter, after rising 1.3% in the previous quarter.

"Farmers are running out of capital," a banker from Arkansas noted. "Commodity prices are too low for input costs and rents/land payments."
Another lender from Arkansas seconded the effect input prices are having on farmers' profit potential.
"What we are faced with is a commodity market that will not provide enough margin to service the prices that the producers have to pay for inputs such as seed and fertilizer and chemicals," the lender reported. "I think this is tied to the trade deal but am not sure. In 2005, soybeans were $5.50 per bushel and people grew them. Now they are $8.90 per bushel and you cannot afford to make less than 60 bushels per acre to break even."
Lenders were asked: What is the most significant risk to the farm sector in 2019? Their responses were:
Decline in land prices: 0%
Increase in interest rates: 8%
Increase in input prices: 23%
Adverse trade outcomes: 62%
Other: 8%
"Weather continues to be the greatest risk," according to a Missouri lender. "With the size of today's operations, poor growing conditions could result in losses of $250,000 or more even with crop insurance. Good weather conditions can result in profits exceeding $250,000. Land prices show no signs of weakening."
"The most significant development is the reduction in commodity prices that has resulted in farmers holding their grain in anticipation of a future price recovery that I don't expect to happen," added an Illinois lender. "Holding the grain on the farm will result in a decrease in quality that will result in even lower end prices when they do finally sell the commodities."
Lenders were also asked what percentage of their customers borrowed up to their loan limit. The two most common answers were on the high and low end, as 35% of bankers reported that less than a quarter of their customers had borrowed up to their loan limit. While 31% reported that more than half of their customers had borrowed up to their loan limit.
The results are based on responses from 26 agricultural banks within the Eighth Federal Reserve District, which includes all or parts of seven Midwest and Mid-South states: Arkansas, Illinois, Indiana, Kentucky, Mississippi, Missouri and Tennessee. The survey was conducted March 15 through March 31.
Read More