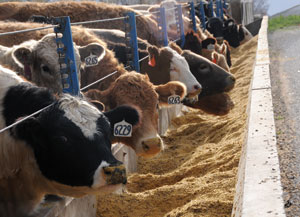 Strong beef, cattle and corn prices put farmer Dale Pfundstein in the position of seeing positive returns for the majority of his farm enterprises this past year. The Sterling, Ill., farmer and
cattle feeder runs 900 head of fed cattle in a covered monoslope facility on his farm, where his family also raises corn and other crops.

Like many farmers in the Midwest, Pfundstein is taking advantage of strong cattle prices to market his grain "on the hoof" to increase his return on investment.

Jeff Pastoor, senior cattle consultant for Land O'Lakes Purina Feed, says that during the past several years there have been numerous changes with a positive impact on cattle feeding in the Midwest. "Key among these have been a growing ethanol industry and a rising corn basis between the Corn Belt and the Southern Plains," he says.

Pastoor points to USDA–National Agricultural Statistics Service data that shows cattle placements in feedyards in the Corn Belt have grown from a little more than 25% in 2004 to more than 30% in 2010, while the Southern Plains has seen relatively flat placement percentages during the same time period.

A major shift in cattle feeding regions is unlikely, but some analysts expect growth in the number of cattle on feed in the Midwest to continue in the next few years.

Growth in the Midwest can be linked to cost-of-gain advantages, Pastoor points out. "During the past 10 years, there's been an average 15¢ per pound advantage on cost of gain," he says.

Accessibility to byproduct feed sources offers advantages as well.

Weber Beef, a 5,000-head cattle feeding facility in Illinois, has been feeding cattle since 1986. Justin Weber helps manage the feedyard with his father, David, and says that while being able to produce their own feed is beneficial, it also helps to have access to less expensive byproduct  feeds.

The Webers are close to a number of ethanol plants as well as a Tyson beef slaughter plant, which helps keep their feed costs lower. They receive regular deliveries of modified wet distillers' grains, gluten and paunch (a byproduct from the rumen of slaughter animals) to use in rations.

While growth in ethanol production has increased corn prices and squeezed margins for cattle feeders, those in the Corn Belt benefit from producing their own corn and mixing it with less
expensive byproduct feeds to create a ration that improves the cost of gain.

Even with higher corn prices, Iowa State University Extension economist Shane Ellis says, the current market still gives producers a chance to market grain on the hoof and realize a profit. While corn may bring $5.50 per bushel, the average cost per bushel is $3.50. "With that cost, you can still afford to feed it to cattle for a profit," he says.

Pieces of profitability. While solid prices provide a bright spot, there are an increasing number of challenges. Changing environmental regulations, rising land values, higher input costs and extreme weather patterns all play into the profitability puzzle.

For many feeders, environmental regulations create a challenge. The need to obtain permits to expand confinement operations can limit the ability of some producers to grow. Others are creating arrangements with neighbors to build facilities for cattle feeding to spread the cattle out into smaller yards with less than 500 head.

Ellis says 52% of cattle on feed in Iowa are in smaller feedlots that hold less than 1,000 head.
Under current regulations, the only way to build new feedlots is to eliminate runoff. For many, the easiest way to accomplish that is to build covered facilities, such as monoslope hooped barns that allow good ventilation, provide shade and protect cattle from rain and snow. While building a facility costs money, producers see a benefit in improved nutrient values of manure and rates of gain in cattle.

Harris Haywood of central Iowa feeds cattle in monoslope barns scattered across his farm and neighboring farms. Each facility holds 450 head.

Since the facilities are expensive to build, he partnered with neighbors who built monoslope buildings on their land and let Haywood lease the barns to feed cattle. The neighbors then use the manure on their cropland to reduce the amount of fertilizer they have to purchase—a major payback on their investment.

Feeders are not using covered facilities only to meet environmental and permit requirements, but also to help control the primary reason cattle feeders moved from the Midwest to the Southern Plains: the weather.

The covered barns keep animals dry and shaded, which Pfundstein says improves animal rate of gain by reducing heat and cold stress. Haywood adds that the covered facilities also improve the nutrient value of the manure.
Limit risk. Given the volatility of inputs, even if producers feed their own corn, it's important to manage risk. When it comes to formulating rations, the Webers make adjustments based on product availability and pricing.

"As a custom feeder, we try to reduce risk to customers by formulating a ration that will provide the most gain but also keep feed costs as low as possible by using byproducts. As feed input prices change, there are times when rations also must be adjusted to keep costs down," Weber says.

From a marketing perspective, all producers placing cattle on feed need to get a price floor locked in. "At the minimum, use puts to lock in a floor on animals going on feed—then you still have unlimited upside potential," Ellis says. It also helps avoid sudden price changes so producers can benefit from the possible triple-digit profits expected in spring of 2011.