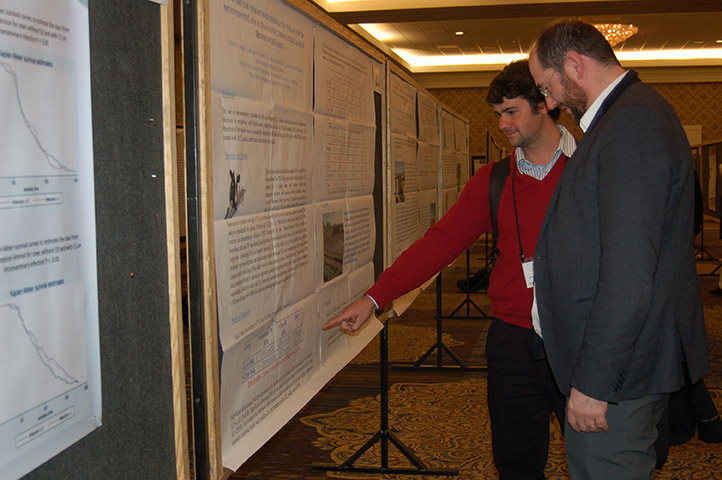 More than 400 milk quality, mastitis and udder health researchers, dairy producers and dairy industry partners attended the National Mastitis Council (NMC) 54th Annual Meeting held Feb. 1-3, in Memphis, Tennessee. The annual meeting offers a platform for international discussion on the latest in milk quality innovation and expertise, and this year's event was no exception.
"The NMC annual meeting provides a venue for the exchange of pertinent information, research and data regarding milk quality worldwide," says Dr. Gary Neubauer, NMC president. "Attendees have an opportunity to discuss global milk quality challenges, share valuable experiences and network with others from around the world who are interested in quality milk production."
In addition to a large contingency of U.S. representation, approximately 25 percent of this year's attendees represented 26 different countries other than the United States.
2015 meeting highlights
This year's annual meeting featured:
         Discussions focused on the systems approach to milk quality encompassing the people, the equipment and the environment.
         A symposium focused on the various consumer perceptions, wants and needs concerning dairy products. Attendees were challenged in meeting those requests. 
         Ten short courses covered topics such as precision dairy farming mastitis detection technologies, expanding views of the transition cow period and milk quality beyond the udder.
         A technology transfer session where researchers shared cutting edge information and solutions for the future of mastitis control. More than 60 posters were presented for review and knowledge sharing.
"Our goal was for attendees to be able to take home practical ideas that they could implement immediately in the field or on the dairy, and to offer a very unique opportunity to network with the top experts, researchers and consultants from various countries," says Dr. Neubauer.
Milk quality, contribution and scholar awards presented
The National Dairy Quality Award winners, NMC Scholars and this year's recipient of the NMC Award of Excellence for Contribution to Mastitis Prevention and Control were recognized during an awards luncheon on Feb. 3.
Receiving top recognition in the National Dairy Quality Awards were: Mike, Jean, Brent, Brock and Nelda Bailey, and Florieda Gorham, Tomah, Wis.; Randy and Kathy Bauer, Faribault, Minn.; Jeremy Beebe, Whittemore, Mich.; Michael Kleinhans, Kiel, Wis.; Duane and Janet Molhoek, Falmouth, Mich.; Brent, Nancy, Tyler and Ben Wilson, Carson City, Mich.; Mike, Lorene, Andrew and Bobbi Zagata, Sebewaing, Mich. Judges select top dairy producers to receive this honor based on quality milk production indicators such as somatic cell count, bacteria count and mastitis incidence, along with milking routine, systems of monitoring udder health, treatment protocols and strategies for overall herd health and welfare.
The 2015 NMC Award of Excellence for Contribution to Mastitis Prevention and Control was awarded to Dr. Larry Fox from Washington State University. This award, in its fourth year, is sponsored by Boehringer Ingelheim Vetmedica, Inc., and recognizes an NMC member for sustained contribution to mastitis prevention and control through research, extension or education, clinical practice or service to producers.
For the eighth consecutive year, the NMC awarded travel scholarships to four outstanding graduate students to attend the NMC Annual Meeting. This year's NMC Scholars were Colleen Fitzpatrick, University of Saskatchewan (Canada); Kathryn Merriman, University of Florida (U.S.); Duanghathai Saipinta, Chiang Mai University (Thailand); Kent Ruiz, National Center for Animal and Plant Health (Cuba). The NMC Scholars program was created to support the development of mastitis researchers and milk quality professionals from around the world.  To support the NMC Scholars Program, a "Minute to Win It" fundraising event was held during the meeting.
Reflecting on 2015, and looking ahead to 2016
NMC thanks its annual meeting sponsors who contributed to the program's success. Diamond sponsors were Boehringer Ingelheim Vetmedica, Inc., GEA Farm Technologies, Inc. and Zoetis. Platinum sponsors were Advanced Animal Diagnostics, Inc., Afimilk, Ecolab, Inc., Elanco Animal Health, IBA Inc., Land O'Lakes, Inc. and Gold sponsors included Alltech, Central Life Sciences, Foremost Farms USA and Hypred. Silver sponsors were ABS Global, Inc., Ambic Equipment Limited, BouMatic, Christian Hill Dairy, Dairy Farmers of America, DeLaval Inc., Fight Bac / Deep Valley Farm, Inc., Grande Cheese, Lauren AgriSystems, Ltd., Merck Animal Health, Merial Ltd., PortaCheck, Inc., and Udder Tech, Inc. Sponsoring this year's milk break was Turner Dairy.
The NMC 55th Annual Meeting is set for Jan. 31-Feb 2, 2016 in Glendale, Arizona. For additional information, go to: www.nmconline.org. 

Source: National Mastitis Council