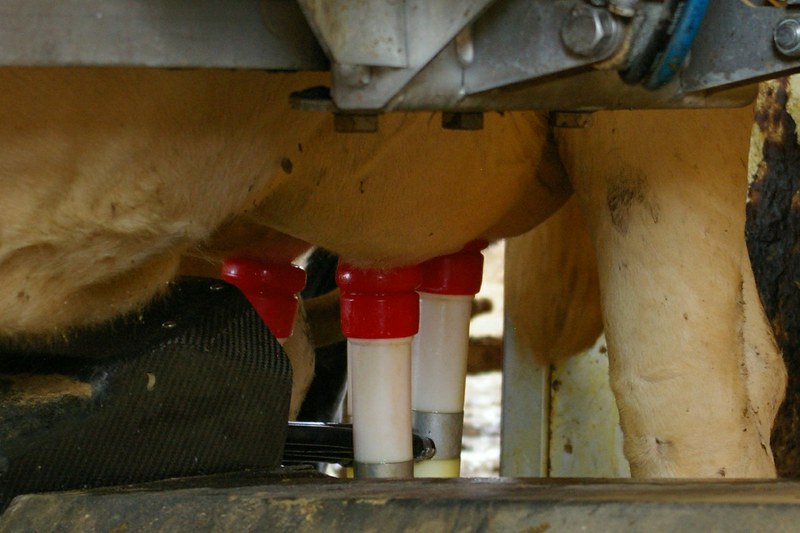 Automatic Milking Systems (AMS, also known as robotic milkers) are slowly gaining popularity on Pennsylvania dairy farms, with approximately 35 Pennsylvania farms currently using the technology.
By: Mathew M. Haan, Dairy Educator, Penn State University

Automatic Milking Systems (AMS, also known as robotic milkers) are slowly gaining popularity on Pennsylvania dairy farms, with approximately 35 PA farms currently using the technology. In conversations with a PA dairy farmer using AMS, I have been told that somatic cell count (SCC) on his dairy typically runs between 300,000 and 350,000 and he does not think he can expect any better from robotic milkers. In contrast, I was told by another dairy farmer that she starts to worry if SCC on her dairy goes over 100,000. Reports in the scientific literature are just as diverse, with some studies reporting improved milk quality with robots, others report decreased milk quality with robots, and still others reporting no difference between robotic milking and conventional milking systems. 
In theory, AMS offers the benefit of consistent udder preparation at milking. Consistent udder preparation in combination with the ability to milk each quarter of the udder separately and a variety of sensors (for example electrical conductivity) to monitor udder health should contribute to improved udder health in AMS-milked herds. In contrast, the inability of the robot to distinguish a clean teat from a dirty teat may result in reduced milk quality and increased udder health problems.
As with any milking system, proper maintenance of the milking equipment and good management of the barn and cows can make the difference between good and bad milk quality. In order to determine which management practices result in good milk quality in AMS-milked herds, a study was conducted on nine dairy farms across southern Pennsylvania currently using AMS. The rest of this article will describe what was measured and some general characteristics of the farms in the study. Future articles will discuss milk quality, effectiveness of robots to clean teats, and other results of the study.    
What Was Measured?
Bulk tank milk samples were collected once a week for four consecutive weeks during the summer of 2014. Samples were transported to the Penn State Veterinary Diagnostic Lab in State College for analysis of:
Bulk Tank Somatic Cell Count
Standard Plate Count
Preliminary Incubation Count
Laboratory Pasteurization Count
Staphylococcus aureus
Streptococcus agalactiae
Coagulase Negative Staphylococci
Environmental and Non-Environmental Streptococci
Coliform and Non-coliform bacteria
On two days during the month in which bulk tank samples were collected, robotic milkers were observed to determine teat cleanliness as cows entered the robot and again following teat cleaning. Technical success of teat cleaning was also monitored; technical success is simply whether or not the teat cleaning device made contact with each of the teats. Teat-end scores and the effectiveness of the AMS in applying teat dip post milking were determined. Robots were observed for approximately 2 hours per observation day, with a target of 15 successful milkings observed each day. In addition to observations at the AMS, body condition and hygiene scores of cows and stall hygiene were evaluated. Dairy producers were also asked to complete a questionnaire to provide additional information about milk production, management, and history of milk quality issues on the farm.
Farm Characteristics
Nine farms from across south east and south central Pennsylvania participated in the study. Bulk tank milk samples were collected during August (4 farms) and September (5 farms) 2014. Farms ranged in size from 1 to 5 robots. Six farms had Lely robots, and the remaining 3 had DeLaval robots. Most barns in the study were new when robots were installed. All 9 farms utilized freestall housing, though bedding type, manure management, feed management, and other factors varied between farms. Study farms had from less than one year to over 6 years of experience with AMS.
Milk production across the 9 farms averaged 75 pounds per cow per day; farms averaged 2.6 milkings per cow per day, and there was an average of 56 cows per robot (Table 1). Average SCC across the 9 farms was 247,806 with a range from 139,500 to 338,500. Standard Plate Count averaged 3,911 cfu/mL (colony forming units per milliliter) and ranged from 420 to 7,846 cfu/mL. Staphylococcus aureus was found on all farms, as were Coagulase NegativeStaphylococci, Environmental and Non-Environmental Streptococci, and Coliform bacteria.