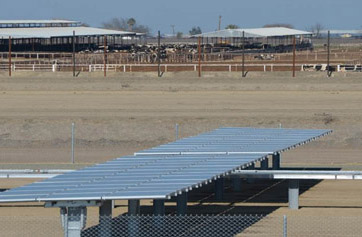 Three years after first installing solar panels, Curtimade Dairy wants more. 
At her family's 2,800-cow dairy in Tulare, Calif., Katrina Curti Rainey is sold on solar energy.
Not only has Curtimade Dairy, Inc. successfully operated with solar power since 2011, it's also planning to add an additional solar-panel system in 2015.  
"We want to expand our solar site to take advantage of the new net-metering aggregation that's available today," said Rainey.
Speaking at the Agricultural Renewable Energy Conference Nov. 12 in Fresno, Calif., Rainey said the dairy's original solar project saves more than $200,000 a year in electricity – money that would have been paid to utility company PG&E.  The savings are well beyond the $145,000 estimated by the project's original projections.
The upcoming expansion will nearly double Curtimade Dairy's solar power output.  It will consist of a stand-alone solar array located beside the original project and will boost the farm's total energy production to nearly 1 megawatt. Not only will that additional power provide much-needed energy for nine more of the farm's 18 irrigation pumps, but it comes with a new benefit.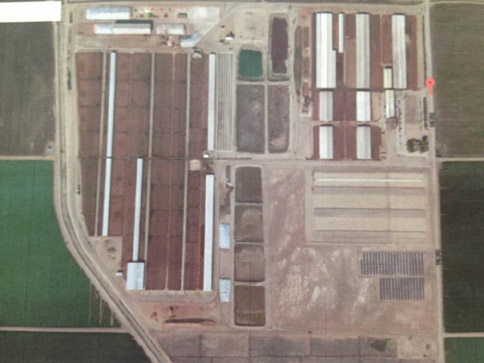 The dairy's solar panels are the two gray rectangles in the lower right of this aerial shot.
New Net-Metering Aggregation Advantage
California last year passed Senate Bill 594, which allows "net-metering aggregation." That permits a single, centralized solar panel system that's producing 1 megawatt or less to service multiple meters or service points. That lets solar-power generators like Curtimade Dairy freely choose where on their property they want to put a solar-panel system to offset multiple electric meters. Solar panels no longer have to be placed on the same property as the meters but can be located on a contiguous or adjacent piece of property. 
"Net-metering aggregation will allow us to produce as much solar power as we can," Rainey said. "The utility company will track all of our electricity meters and offset our overall usage," Rainey said.
Curtimade Dairy, located in the sunny San Joaquin Valley, was the third dairy in California to install a commercial solar power system. Located on a corner of the dairy's four acres, the dairy's original solar project is a 719 kW DC unit that produces more than 1.420 million kWh annually.  The system includes 2,568 Suntech 280-watt panels that automatically track east to west. The ground-mounted single-axis tracker produces up to 25% more solar power than a fixed tilt by following the sun. It also requires less land than a fixed tilt for the same kWh.
"It runs silently, is durable and requires minimal maintenance," Rainey said. "The system should be paid off in seven to 10 years -- or sooner."
Some of the incentives that helped the 2011 project have since changed. For example, in 2011, the dairy received 30% off the purchase price of its solar energy system in the form of a U.S. government rebate check. Now the rebate comes in the form of a tax credit, not cash. The California Solar Initiative, which reimbursed Curtimade Dairy with 4.5¢ per kWh for five years, is no longer available. What is still offered is accelerated depreciation, which allows a 100% write-off of the system price in the first year, compared to a typical 20%.

8 Reasons Why Solar Energy Works
Rainey listed eight reasons why solar energy has made sense for her family's dairy:
It provides a long-term hedge against rising utility costs.
Both the state and federal government provide attractive rebates and tax incentives.
Solar energy reduces emissions and the dairy's carbon footprint.
It delivers energy with zero emissions and is nearly silent.
It produces the most energy when it is needed most – on hot, sunny days when energy is expensive.
Solar uses simple technology with a proven lifecycle and little risk.
It reduces operating costs and provides predictable energy pricing.
It becomes a profit center that can be passed to the next generation
Dispelling Solar Power Myths
Rainey also dispelled three solar myths:
Myth #1: "It's too expensive." That hasn't been her dairy's experience, said Rainey.  The price of solar panels dropped 47% in 2011, the year Curtimade Dairy adopted solar energy. Low-interest loans and financing and federal and state tax incentives also bolstered the viability of the solar project. "These systems make very strong investments and the business case becomes clear," Rainey added.
Myth #2: "It's an unproven technology." In fact, solar is a proven technology with over 50 years of data that support power production, according to Rainey. "Panels installed in the 1950s are still performing strong today," she said. Solar panels today have 25-year warranties and systems have energy output guarantees.
Myth #3: "There is too much dust on dairy farms, interfering with production." Solar panel systems will run with a thin layer of dust, which only slightly impacts efficiency. A quick hose-down will remove the dust.
Rainey advised producers who are interested in adopting solar power to do their homework.
"Seek out a solar company with proven experience and the resources to support development, construction and maintenance," she said.