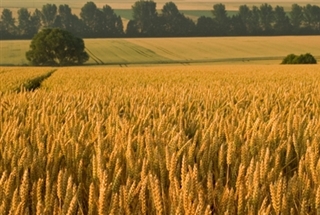 A resurvey of hundreds of small grains farmers in eight Upper Midwest and West states has resulted in only minor changes to the federal government's official estimates of the nation's wheat, barley and oats crops.
The U.S. Department of Agriculture's annual late-September small grains summary usually is the final word on those crops. Because of weather delays, many farmers this year still had crops in the field when they were surveyed about production in early September, meaning they had to guess at what their final production would be.
USDA in October resurveyed 1,400 affected farmers in North Dakota, South Dakota, Minnesota, Montana, Utah, Idaho, Colorado and Wyoming, and used the information to update the official production estimates Monday.
The wheat production estimate dropped less than half a percent, from 2.04 billion bushels to 2.03 billion. The barley estimate went from 180 million bushels to 177 million, a drop of about 1 1/2 percent. The oat estimate went from 70.5 million bushels to 69.7 million, down only 1 percent. Such small changes are not likely to affect prices that consumers pay in the grocery store for foods such as bread, pasta and cereal.
The USDA has done resurveys before, though never in so many states, according to Anthony Prillaman, head of the National Agricultural Statistics Service's field crops section. The number of small grains farmers resurveyed this year amounted to about 2 percent of the 66,300 that were originally interviewed.
In North Dakota, which has had a string of wet falls, it was the fifth time in six years that USDA has revised the wheat production estimate. North Dakota leads the nation in growing spring wheat for baking and durum wheat for pasta.
USDA has not considered pushing back the annual Sept. 30 small grains summary. Resurveys often result in only minor changes and don't cost that much to conduct, according to agency officials.
Delaying the report would impact other USDA reports, and "it would mean delaying final estimates for all small grains in all states, including winter wheat, for the sake of occasional delays in a small number of states," Prillaman said.
There is no call among market analysts for delaying the Sept. 30 report, according to Darin Newsom, a senior analyst at the Omaha, Nebraska-based market information company DTN.
"Logically it can't happen unless they detach the small grains summary from the quarterly stocks report," he said. "I don't see it occurring anytime soon."