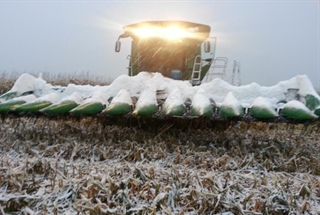 Minnesota farmers made big gains harvesting the corn crop ahead of Monday's snowstorm.
According to the U.S. Department of Agriculture, farmers took advantage of 5.8 days suitable for fieldwork last week to harvest nearly one-fifth of Minnesota's corn crop and 16 percent of the state's sunflower crop.
Ninety percent of Minnesota's corn acreage has been harvested, 10 days ahead of normal. It's the first time this season the corn harvest has been ahead of normal.
The corn harvest advanced 19 percentage points, the most harvested during this week in November since 2008. The moisture content of harvested corn was estimated at 17 percent, down one point from the previous week.
Minnesota's sunflower harvest also moved ahead of normal, with 84 percent of sunflower acreage harvested, two days ahead of normal.