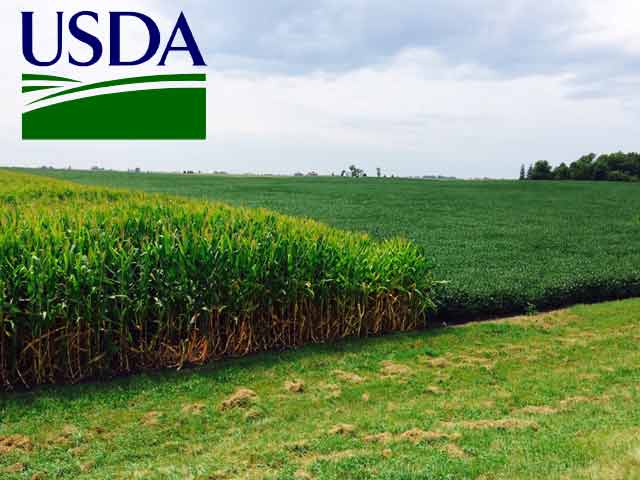 USDA isn't expected to make major changes to the corn and soybean yield estimates quite yet in Wednesday's Crop Production report, analysts say. At this point in the growing season, more information is needed before significant adjustments would be made, given this summer's extreme weather events across the Midwest.
 
"The [crop] ratings haven't moved a lot, so why would you think that yield's going to move a lot?" Andy Shissler with S&W Trading noted on this weekend's broadcast of U.S. Farm Report.
In USDA's weekly Crop Progress report released Monday, the U.S. corn crop as of Aug. 9 was rated 70% good-to-excellent, which was steady to the week prior but slightly under the 73% good-to-excellent rating at the same time last year.
That lack of movement in the corn crop ratings, Shissler argues, is a signal that USDA will hold the corn yield estimate close to the current figure. In the July crop report, USDA pegged the U.S. corn yield at 166.8 bu./acre, unchanged from the June estimate but down from last year's yield of 171.0 bu./acre.  
Chip Flory at Pro Farmer agrees that USDA will likely hold the reins on adjusting the corn yield in the upcoming report until more is learned on crop conditions. 
"I just don't think USDA is going to have enough evidence for this report to drive a significant change in the corn yield from the current forecast," Flory said on a recent broadcast of Market Rally. "USDA might cut the yield to 165, something like that. But I just don't see them going much lower than that, at least not yet. They've got to collect more evidence."
When it comes to the soybean yield, Shissler sees more risk on yield potential with weaker crop conditions being reported by USDA.
"There's an unknown with the weather yet," he says. "And if we don't get a rain in beans, we have a serious issue going to happen here."
USDA rated the soybean crop condition at 63% good-to-excellent on Monday, unchanged from last week but a 7% decrease from the year prior. 
Naomi Blohm with Stewart-Peterson agrees there is much more still to learn regarding soybean yield, which USDA figured at 46.0 bu./acre in the July report, steady with the previous month's estimate but down from 47.8 bu./acre last year.
"With the beans, everyone has their blindfold on right now," Blohm said on U.S. Farm Report.
Blohm expects a possible shift downward with soybean acreage, though. USDA resurveyed soybean growers in Arkansas, Kansas and Missouri for the August report.
"The report is going to show probably less planted acres on soybeans," Blohm says. "But the USDA won't take that big step to show a drawdown in yield, not yet. They're going to wait."
Click here for more pre-report coverage and analysis of the Aug. 12 USDA reports.