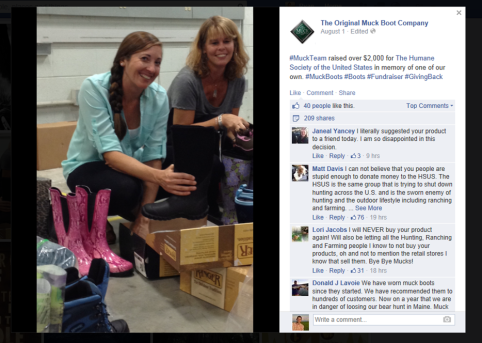 UPDATE: Sean O'Brien, director of footwear for Muck Boots, issued an apology on behalf of the company. In summary, the note reads:
We know it is you, our customers, who have helped build the Muck Boot brand to what it is today. We would never intentionally alienate you, and we sincerely apologize if we have done so this past week. We've worked hard over the years to build quality footwear and to build a brand that is broadly trusted – we hope that you'll give us a chance to earn back that trust.
You can read the entire statement here.
Muck Boots generally is a popular brand with farmers. The Humane Society of the United States (HSUS) generally is not. So when the former name-checked the latter on a Facebook post, sparks flew.
It all started out innocently enough. An employee at Mucks Boots died recently, and the family asked that in lieu of flowers, friends of the deceased contribute funds to the local humane society. Employees responded generously, tallying about $2,000 in donations.
But when the company shared this fact on Facebook, that's when the muck hit the fan. Muck Boots wasn't expecting a huge wave of negative backlash from the farming community. The company spent the next several days dealing with negative feedback on Facebook, Twitter and farmer blogs.
On Twitter, the social media platform that shares content in 140-character bursts, the reaction was predictably short, angry and to the point. Typical responses looked like the one from Brandi Buzzard Frobose: "#WhatTheMuck were @MuckBootCo thinking when they donated to @HumaneSociety?! H$U$ doens't support local shelters!" A few farmers even threatened to throw away their boots in protest.
Buzzard and others also took to the blogosphere to type out longer reactions.
"I find it asinine that a company who markets to rural Americans - hunters, farmers, ranchers, fisherman, etc - would engage in relations with a lobbyist organization who is out to abolish those very industries and hobbies," she writes.
Some, including Ryan Goodman, were willing to give the company the benefit of the doubt – at least until they had time to react to the backlash.
"Let's hope the posts by Muck Boots were a mistake or maybe even that they were unaware of the status of HSUS among their customer base," he writes in his "Agriculture Proud" blog.
Muck Boots later issued an apology, saying in part: "We would like to respond to our loyal customers and provide additional information about recent posts on social media regarding a monetary donation to a local animal care organization. Our post inaccurately stated that a donation was made to The Humane Society of the United States (HSUS). Moreover, the post itself was inappropriate under the circumstances. … The money is not a corporate donation, but a collection of personal contributions from employees with the intent of remembering a beloved co-worker."
Time will tell if Muck Boots can bounce back quickly, or if it has muddied its reputation more permanently.
Join the conversation in The Lounge, AgWeb's home for discussions about social media blunders, NASCAR talk, too-close-for-comfort wildfires and other random observations.