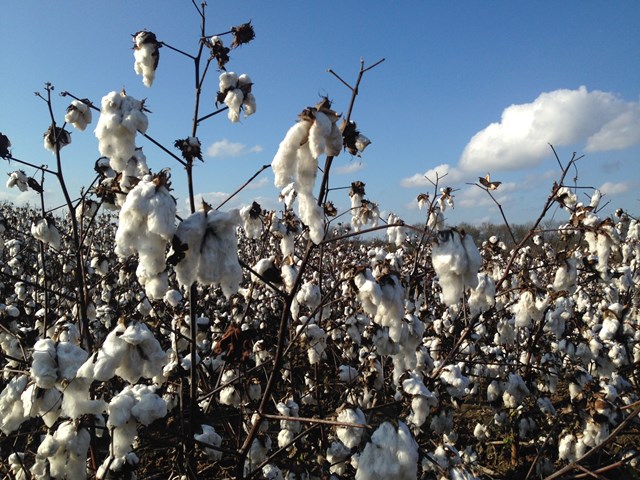 Cotton growers are facing some difficult times. That's when you factor in acreage and demand. But one Southern area seems to be the exception for business.
The majority of cotton is harvested near Macon, Mississippi. Grower Jack Huerkamp says this season was a challenge early on with too much rain and then too much heat.
"We had a real average year this year. Average is good. That's not a bad thing," said  Jack Huerkamp, president of the Bogue Chitto Gin. Harvest weather also turned out in his favor.
"We ended up with an excellent harvest season. We can't beat that. We didn't get but one small rain from the time we started picking till we finished picking. That's what you want to do with cotton," said Huerkamp.
Growers don't have to travel far to gin their crop either. "This is the first cotton gin in this area since the last one closed in the 1970s. We were without a gin. Over that time, we had to haul at least two counties away," said Huerkamp.
Watch the AgDay story here:
Bogue Chitto Gin started construction in 2012. It's located in Noxubee County, a historically top cotton-producing county In Mississippi. 
However, since Bogue Chitto became operational, cotton prices have dropped to near six-year lows. Lower prices aren't helping drive acreage. USDA's planted acreage data shows all cotton acreage was estimated at 8 million acres, nearly 20% below last year. As a result, gins are slowing down production throughout the South. But this gin is an exception.
"If you get 150 miles away from here, you do see a decrease in cotton acres. That's particularly this year. We have 25 stockholders in the gin. That's a good thing. Those guys will continue to raise cotton. Besides that, we were ginning cotton for 50 other producers," said Aaron Litwiller, Bogue Chitto Gin's general manager.
"To expand cotton acreage, we had to have a gin. But if you build a gin, you have to expand cotton acres. So, some of that was on faith the acreage would build, but the acreage did build. The first two years we ginned about 35,000 bales. The next year, we went up to 55,000 bales. This year will be 55,000 bales or maybe a little more," said Huerkamp.
These producers are battling some of the same problems others are around the Cotton Belt. Huerkamp says price and world stocks are big challenges, especially when China continues to hold stocks of more than 60 million bales.
"We're carrying almost a whole crop carryover right now. That's kind of a scary thing," said Huerkamp. Despite the hurdles cotton growers are facing, these two hope the history and longevity of cotton growing continues on in their community down South.
"I'm going to grow cotton. Even if I lose a little money, I'm going to. It's in my blood," said Huerkamp.