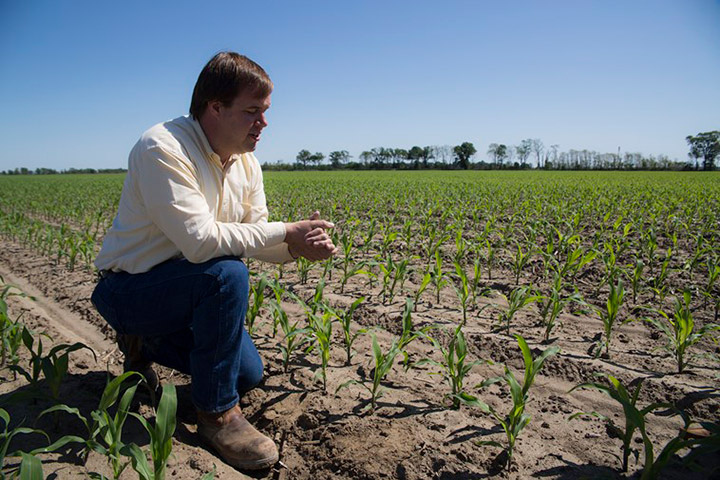 Guesswork is a bedfellow of loss.
Jeremy Jack doesn't tolerate the unknown across 12,000 acres of corn, cotton, peanuts, rice, soybeans, and wheat at Silent Shade Planting Co., in Belzoni, Miss. In 2015, Jack began tracing his farming movements with unprecedented accuracy after setting Silent Shade's dial on Granular, a comprehensive farm management software. The results? Tracking and efficiency zeroed in on a higher farmer dollar.
Granular bundles operations, financials and agronomy into one package for everyone across an operation to use, from a field operator with a mobile app to the CEO, bookkeeper or grain marketer. A strong system just got even sharper with the addition of Granular's approach to input management: input inventory and input benchmarking reports.
A multiplicity of crops, field activities, and employees are far from orchestral during planting, irrigation, spraying and harvesting. Yet, input inventory provides a real-time tally of seed, fertilizer and chemicals to boost grower insight into incoming inputs, present inventory, loss, costs and even overcharges or theft. Granular tracks precisely what inputs are bought, when they arrive and how they're used in the field. No pulling Excel sheets or paper records, and aggregating after the fact. "As we plant, input inventory pools the seed bags as they're used. It's a great cost-management tool. Regardless of input, we're doing a much, much better job of tracking how everything is used across our operation," Jack describes.
Growers log input deliveries into the platform during planting or spraying, and the Granular system keeps a running inventory of products. The input tally can be shared with third parties. If a grower negotiates a flex-rent agreement where the landlord pays 25% of input costs, input inventory is vital to both parties. In addition, the numbers can offer bankers and lenders confidence about a farm's cost structure. Or, input numbers can provide insights to crop advisors and agronomists to ensure optimal dollars are targeted at inputs when forming crop plans.
Appearances can be deceiving even when two 100-acre fields appear identical and both yield 200 bu. per acre corn. If the first field is eating $25 less inputs per acre, the second field is quickly exposed. Yet, the only way to nail down the difference is by tracking inputs. "The input inventory really lets a grower compare across fields. Exact input numbers in given fields show which are making profit and which are causing loss," says Adam Litle, vice president of Customer Success, Granular. "Input inventory provides data that strengthens an operation's overall profit margin by eliminating waste in unprofitable fields."
Granular also provides input benchmark reports relying on analysis of costs by collating and comparing prices paid by growers across regions and the U.S. "Benchmarking shows whether a grower is paying more or less than his peers according to volume and average paid in the region, or nationally. It's entirely anonymous, but provides far more bargaining power," Litle explains.
Jack says he's already seeing the benefits of benchmarking. The reports allow him to know where he stands by region and by comparison to all other Granular farms in the U.S. "I've already found certain fertilizers I was a little high on, and certain seeds where I was a littler lower," Jack notes.
As a final plank of the input platform, Granular provides a financial plan report. Granular automatically builds a budget after a grower assigns crop plans to fields. Once planting or application begins, a grower can filter by crop type and field. "All data comes into the program and seamlessly is recorded in the right location. It's very simple for a grower," Litle says.
Granular provides service to farms of all sizes, from 2,000 acres to 50,000 acres. The company's input tools are just the latest updates to a phenomenal system, Jack emphasizes. "I don't see any other company bringing this many options to the table. The Granular team checks in and tracks my numbers constantly. They offer so many vital things that add up to real efficiency differences."