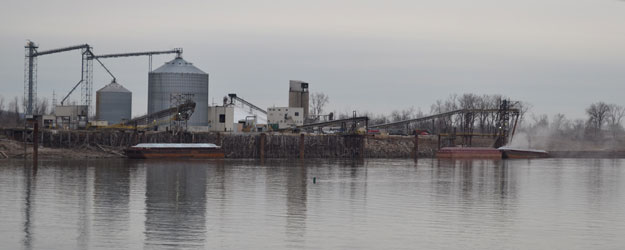 The chances of a river closure seem to be diminishing, but there is still work to be done.
"Right now, the river has come up quite a bit," says Michael Petersen, U.S. Army Corps of Engineers spokesperson, as he overlooks the low river.

Even with a recent bump in levels, the river is at a negative 3.6. To put that into perspective, that's almost 37 feet lower than it was at the peak of 2011 and 50 feet lower than water levels during the flood of 1993. 
"A negative 3.6 doesn't mean there's no water in the river," explains Lt. Colin Fogarty, spokesperson for the U.S. Coast Guard. "What it means is that based on historical river levels, a zero is marked at one arbitrary time. And that way it gives mariners an idea of what the levels are at."

The Coast Guard says there is still 11 feet of navigable water, but that continues to fluctuate.

"Although the river remains open, we're still limited to a nine foot draft on our barges and 15 barges per towboat" says Marty Hettel with AEP River Operations. "So, we're actually still operating, but at only 45 percent of our capacity."

Despite several cries of warning from industry about river closures in the future, work by the U.S. Army Corps of Engineers has ensured traffic remains afloat. And this has industry changing their tune.

"What we've been able to do with a combination of dredging and rock removal work, we're going to be able to guarantee a nine foot depth all the way down to a negative seven in St. Louis, which is below the record low we have at St. Louis," says Petersen.

The U.S. Coast Guard told AgDay the portion of the river where rock removal is taking place near Thebes, Illinois, has been closed 16 hours each day. Commerce will soon have open waters, as the rock work is being complete ahead of schedule.

"Thank goodness the Corps got in and got those pinnacles removed by working with their contractors," says Hettel. "I can't say enough about the great job they did."

While it's positive news the rock work will be completed ahead of schedule, a line of barges has been a mainstay near Thebes, waiting for the river to open for just eight hours each day. Add to that barges being loaded at lighter levels, it means delayed transit times and ultimately increased shipping costs.

"At least the river is staying open," says Hettel. "We've moved 380,000 tons this month in the St. Louis corridor. Now, keep in mind, that could have moved over 600,000 tons."

"There was certainly a period of time where the lack of certainty whether the river would be open created a situation where the export industry was a little reluctant to put on deferred sales to customers," says Rick Calhoun, president of Cargo Carriers, Inc., a branch of Cargill. "We've passed on some business we would have otherwise done. Unfortunately, that business has gone away and probably isn't going to come back this year."

As fertilizer makes its way up the river for spring applications, Calhoun says those barges are also being forced to carry lighter loads to ensure the boats can make it through.

While the chances of a river closure seem to be diminishing, we aren't in the clear yet.

"In addition to Thebes, there are other areas we have rocks near grand tower, Illinois," says Petersen. "And that work is coming. We're working on the contracts right now to get that and get out there and hit the most critical areas."

"Our primary concern is safety," says Fogarty. "So, if the river becomes unnavigable or unsafe, the U.S. Coast Guard will use its right and authority to shut the river down. However, that being said, we don't foresee that happening in the near future.

We still have a few months to go before water is released from the Missouri River this spring. Hettel says this will help improve levels from April through December.

If the drought persists, we could end up in the same boat next spring.

"If we do have this scenario next year, we can better prepare our customers," Hettel says.