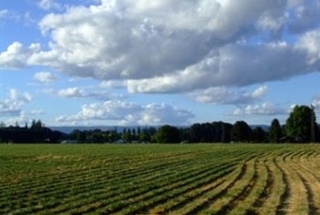 Low property tax rates-a third of the national average-play a hand in keeping Missouri land values stable, says University of Missouri Extension economist Joe Parcell.He predicts that land values may soften briefly as commodity prices drop. However, low interest rates, low taxes and growing consumer confidence will keep prices steady, Parcell says.Missouri's average property tax rate between 1951 and 2012 was 0.12 percent. During the same period, Missouri average growth rate for land values was 6.6 percent, above the growth rate for adjoining states.
Interest in recreational land also has kept land values high. Rent-to-value has been above 6 percent, a full percentage point above the national average, Parcell said."There are a number of positive factors that are likely to support Missouri agricultural land values," he said. "The economy is picking up steam, which stimulates consumer discretionary spending. Interest rates remain low, and the stock market increase has led to increased consumer confidence. This is the perfect recipe for seeing non-agriculture-related interest for Missouri farmland."
Cash rent for land is changing as well, said MU Extension agricultural business specialist Karisha Devlin. Rising livestock prices pushed pastureland values up faster than cropland in 2014, reversing usual growth rates.
There are also changes due in part to the growing number of landowners who don't live on the land. Absentee landowners may be two generations removed from the farm. They may have fewer emotional ties to the land, little understanding of farm issues and see the land only as an investment.
Changing commodity and livestock prices are driving interest in flex leases and cash agreements, Devlin said.
In the past, landowners may have based cash rents on what others pay. Be leery of "coffee shop talk" as a guide, and use mathematical equations recommended by MU Extension.Devlin said good cropland averaged an estimated $4,717 per acre in 2014. Pastureland values ranged from $1,751 to $2,672, up 7.2 percent from 2013 due to demand caused by higher beef prices. Timberland was worth $1,820 per acre, and hunting and recreation land was valued at $1,710.
The simplest rule is, "The best land is still the best value," she says.For more information, go to http://fapri.missouri.edu/farmers_corner and http://agebb.missouri.edu/mgt/budget.

Source: University of Missouri Extension