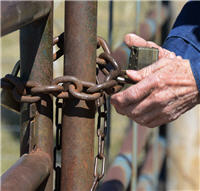 Higher cattle prices have led to more cases of stolen cattle across the country. University of Missouri Extension livestock specialist Eldon Cole says southwest Missouri has had more than its fair share. In the last three years, he estimates there were more than 500 head of cattle stolen in the area, with thefts escalating in the last 18 months.
"That number is really less than actuality. We don't really know a total," he says. "Many farmers don't always report thefts to the authorities because recovery of the animals doesn't happen often."
The seven-county radius around Mt. Vernon, Mo., have received the most reports of cattle theft. "Most theories are that there may be a couple groups working together," Cole says.
"It's not a random act—they are savvy cattlemen that know how to handle and sort animals. Most reports are of calves in the 500 lb. to 750 lb. or 800 lb. range."
Cole has talked to many cattle producers who say the thieves sorted out calves that would be easily identified, separated calves from cows and left the cows, and sorted out black from colored cattle, branded cattle or animals that would easily be identify otherwise. Cole says that this supports the theory that the animals may remain in the area, mixed with other calves and backgrounded for a period of time before selling.
Higher value cattle raises the stakes. While the situation in Missouri seems to be a localized ring targeting farmers in the area, the Livestock Marketing Association (LMA) has received 34 reports of stolen or missing livestock so far this year, says Jody Donohue, LMA director of communications. The reports are posted on the LMA website. Those reports range from one to more than 50 head in each case, from states such as California, Wyoming, Missouri, Texas and Iowa.
Donohue says the number of theft reports has risen over the past couple of years. "The trend is alarming. Last year, we about 200 reports, and we know that not all of the reports make it to us," she says. As cattle increase in value, the frequency of cattle thefts often increase.
"If your cattle are stolen it's very unlikely they that they will show up at a market close to where they were taken. If you hope to recover them, definitely report that they missing to your state law enforcement agency and any state associations who send out alerts.  Once we get a report, directly from a producer, from law enforcement or another organization, weshare it with our members."
Donohue says livestock owners and employees pay attention to those reports and keep an eye out for cattle that meet the descriptions that LMA provides.
"The livestock markets really are one of the last lines of defense in retrieving stolen livestock. Market owners and employees look for things that don't make sense: like different brands or if the person seems out of place or unfamiliar with the process of selling cattle," Donohue says, adding that if something seems wrong, law enforcement is often called to investigate.
Stay aware to prevent criminal activity. "These groups have been crafty," Cole says. In one instance, there were six different fences cut to gather and steal a farmer's cattle. Another farmer was hit repeatedly—three occasions in a 18-month period—for a total of 40-plus head.
"More than 200 people attended our branding meeting this past week," Cole says. While many producers in the area don't brand their cattle, it may be one deterrent for thieves, he says.
Most thefts are still occurring at night, along county paved roads, especially if there are already cattle facilities there, says Sgt. Jason Clark, Missouri Rural Crimes Investigative Unit, part of the Missouri State Highway Patrol. "Southwest Missouri has always had more reports of cattle theft—mainly because there are more cattle there. With Hwy 44 running through the area, it's easy to move cattle out of the area quickly."
"Law enforcement will look for reasons to stop nighttime shipments of cattle, but the key is really to not keep cattle corralled near the road," Clark says.
If that is not something you can change, Clark advises farmers to consider installing security cameras. While it won't prevent a theft, it may help in recovering animals or catching the criminal in the act. "We use the game cameras more and more in areas that are seeing more criminal activity," he says, adding that he was installing such cameras during the interview with Farm Journal.
Cole said both the Missouri Cattlemen's Association and the Missouri Farm Bureau are offering $5,000 rewards for information leading to the arrest and conviction of cattle thieves.
"And there are several local people who have had cattle stolen that have teamed up and put together a $10,000 reward," he says.
Anyone who has information or needs to report a theft should contact the Missouri Rural Crimes Task Force at 1-888-484-8477.