The following story was written by a University of Missouri student as part of the 2011 Sonja Hillgren/Farm Journal Ag Journalism Field Reporting Institute. Learn more.
By Benjamin Zack
Drive down the back roads of Shannon County, Mo., and you can travel from clear-cut hillsides to some of the oldest pines in the Ozarks in a matter of minutes.
Such wide differences illustrate some of the possible futures for Missouri forests as the biofuel industry moves into the neighborhood.
"Biofuels could be the greatest management tool to come down the road for central state hardwoods of anything that could ever come along," said forester Scott Brundage. "But, if it's harvested incorrectly, it could be the most devastating thing for management of hardwoods the state of Missouri has ever seen."
And Missouri forests have seen their fair share of troubles in the past.
The forests that covered the Ozarks 200 years ago were almost completely cut for timber or agriculture. Sustainable and responsible logging can be seen in some areas today, but industries such as charcoal and wood chipping have led to waves of clear-cutting in the same regions.
As biomass becomes a potential large-scale alternative to fossil fuels, the question is whether it will lead to healthier forests or more clear-cut forests.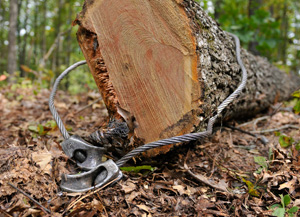 A cable is wrapped around a black oak after a forester has cut it down and prepared it for removal. Larger trees can be chipped up and used for biomass production along with smaller trees, a possibility that scares both loggers and environmentalists. Photo: Benjamin Zack


"Trees need room to grow," said Jason Green, a forester with Pioneer Forest, "They're not going to get any bigger if they don't have any space."
Historically, fires and other natural disturbances provided the openings for healthy trees to grow. Now, foresters at places like Pioneer Forest — the first private forest in Missouri to practice sustainable logging — go in and thin out the smaller, unhealthy trees by hand.
Without thinning, either by humans or nature, the forest becomes tangled with dense clumps of small trees. These trees end up competing for limited resources to the point where few, if any, are able to grow strong and healthy. By cutting some of the smaller trees, landowners help create a more natural, healthy and productive forest.
But thinning is an expensive process that few landowners are willing to commit to. Covering the high cost could be biomass's potential gift.
If done correctly, a market for small trees could make it cost effective for landowners to thin and restore their forests to a healthy and natural state.
If done correctly. And that is a big "if."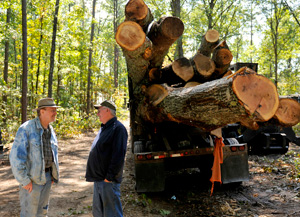 Peter Becker, left, with the Eastern Ozarks Forest Council, chats with logger Gene Fisk at a logging sight in Pioneer Forest. Citizens from all sides of the forestry, logging and energy communities have come together, with varying levels of success, to sculpt out the future of biomass production. Photo: Benjamin Zack
Previous markets for small trees have led to clear-cutting of Missouri's forests. When a market for wood chips appeared in the 1990s, entire forests were removed because cutting all of the healthy trees along with the thickets was easier — and provided more upfront income — than managed thinning.
With the wood chip industry fresh in their memories, an unusual conglomerate of loggers, foresters, activists and power plant operators are devising methods to guarantee biomass production will lead to more sustainable forests, not fewer.
In a state like Missouri, without private forestry regulations, the impact the biomass industry will have remains a mystery. For now, all eyes are on the University of Missouri, which is installing a new biomass boiler. The university has voluntarily implemented a plan to use sustainably harvested fuel when the boiler goes online in 2012.
The role the new boiler plays on Missouri's forests, and whether it can compete economically, could change the route of future biomass production, forestry experts said.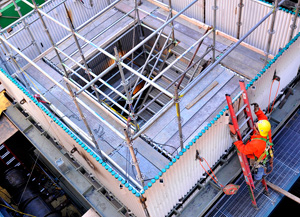 A construction worker climbs the insulated walls of the new biomass boiler at the University of Missouri. The boiler will burn 100,000 tons of biomass a year and provide 20 to 25 percent of campus energy. University officials have implemented a plan to use sustainably harvested fuel for the boiler. They hope the plan will serve as a model for other plants. Photo: Benjamin Zack