Editor's Note: The University of Nebraska-Lincoln recently published, via their CropWatch newsletter, the following story and photos. For information, fact sheets, and on-line webinars on flood recovery see UNL's website flood.unl.edu.
As the Missouri River continues to recede into its banks, farmers up and down the river are getting a fuller view of the damage, debris, and acres of sand that will need to be cleaned up before production can resume. 
Following are several photos taken by John Wilson, extension educator in Burt County, Neb., and Scott Olson, a Burt County farmer and pilot. 
Olson made numerous flights over the flooded areas up and down the Missouri River, documenting the event and providing an unparalleled service to farmers and acreage owners who couldn't return to their land for months.
Growers would call and ask, "What's my farm look like. I can't get to it." and Olson would respond with photos and more photos as the situation changed. He has now posted more than 2,500 photos documenting the 2011 flood at
Lee Valley, Inc.
Next week Wilson and Olson will be traveling to Washington D.C. to present information on the flood's impact on farms to two Congressional committees on behalf of the Soil Science Society of America.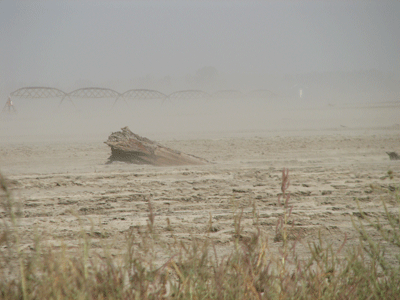 Blowing and drifting sand in a field in Burt County in northeast Nebraska. Many growers will be repairing or replacing pivots due to flood damage.  (Photo by John Wilson)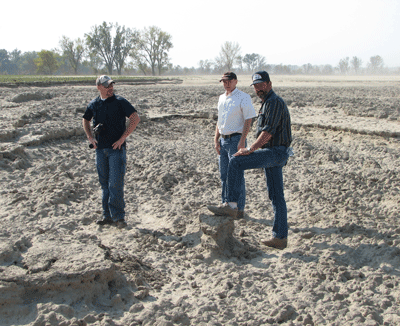 From left,  Clarke McGrath, ISU Corn Soybean Institute agronomy fIeld manager, Shawn Shouse, ISU agricultural engineering field specialist, and Scott Olson, Burt County farmer, view the sand-covered fields and discuss what it's going to take to reclaim the land. This fall Olson has switched between combining his other fields and removing sand from this field. (Photo by John Wilson)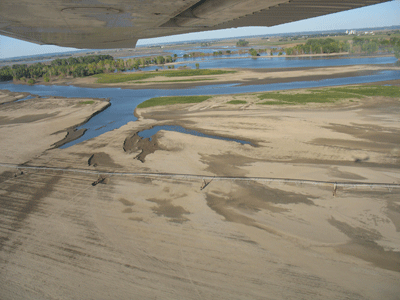 Note the new ditch extending down and to the left from the river.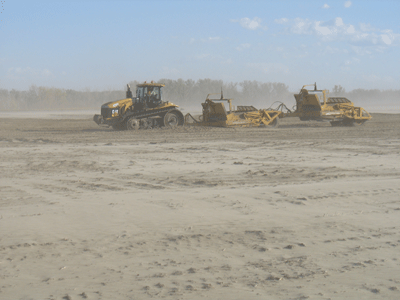 Excavation equipment is used to remove sand from a previously flooded field.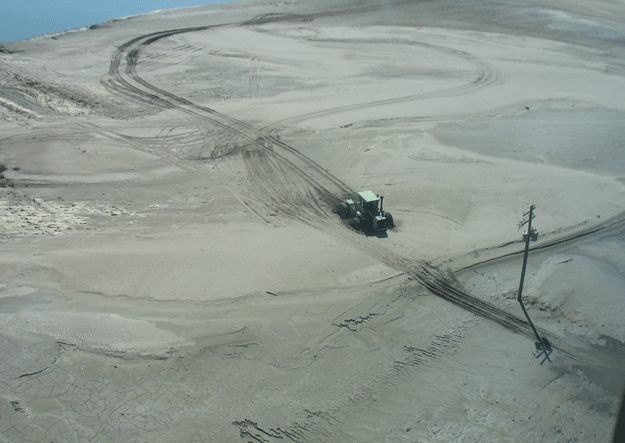 A tractor becomes mired down in the sand and has to be dug out of a Burt County field bordering the Missouri River. Sand deposition in this area varied from approximately 3 to 10 feet. Darker wheel tracks near the power pole indicate where vehicles reached native soil. While some authorities have said the 2011 flood is over, the aftermath means work is only beginning on farms and in towns along the flood's path. (Photo by Scott Olson)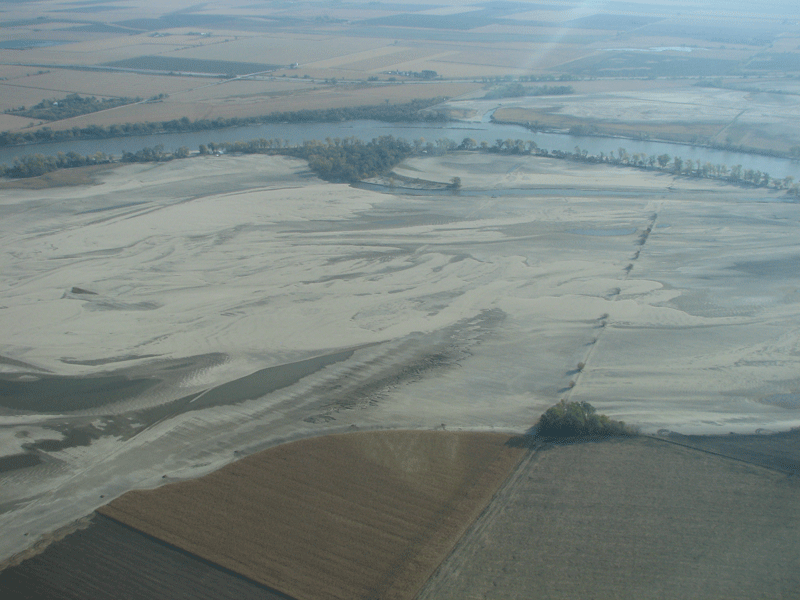 About 500 of the approximate 3,000 acres that Olson farms in Burt County were flooded this summer. (Photo by Scott Olson)
Sand and More Sand
Sand deposition and drifts formed by water currents can vary widely across a field and from one field to the neighboring field. Extension recommendations on reclaiming these fields depend on the depth of sand:
0-2 inches — Incorporate sand into native soil by disking or field cultivation
2-8 inches — Use more agressive tillage, such as with a chisel or moldboard plow.
More than 8 inches — Remove the sand down to 8 inches or less and till accordingly.
Tillage in the native soil should be 1.5 times the depth of the sand layer. For example, if sand is 6 inches deep, till down through 9 inches of native soil for a total tillage depth of 15 inches to get adequate mixing of sand and soil.
In some fields, the cost to reclaim the land may exceed the value of the land. USDA FSA programs may offer some assistance with expenses.
For information, fact sheets, and on-line webinars on flood recovery see UNL's website
flood.unl.edu
.
---