Is ACRE for you?

The Average Crop Revenue Election (ACRE) is arguably the most important commodity program change in the 2008 farm bill, says Pat Westhoff, Food and Agricultural Policy Research Institute economist at the University of Missouri. "Instead of traditional payments, ACRE makes payments when per-acre revenues for a given crop in a given state fall below a trigger level, which is based on moving averages of national average prices and state yields."

Beginning in 2009, you can stick with the regular program or choose ACRE, but once you enter ACRE, you have to stay in it through 2012. You must enroll all your crops.

Because of ACRE's "cost," it is by no means a slam dunk from a farmer's point of view. There are three cost components:
• You give up 20% of your direct payments, or about $3/acre for wheat and $4/corn.
• You give up all countercyclical payments, if there are any.
• Your marketing loan rates are reduced 30%—although, given that the $1.90 corn loan bears little relation to today's prices, "30% of nothing is irrelevant," Kansas State University Extension Economist Art Barnaby comments.

"It isn't until market prices top that it starts to get interesting," Barnaby says. "As long as prices are headed up, you are better off not signing up. It will be a better deal once prices have topped." However, there is a much greater chance that ACRE will pay than either the loan or the countercyclical program, he adds.

For complete details about ACRE and links to a calculator, visit www.ToProducer.com Web Extra. —Linda H. Smith


---

Big variations in land rent

Iowa cash rental rates showed more variation in 2008 than in most years, says William Edwards, Iowa State University Extension economist. This is likely because the volatility in corn and soybean prices have led to a wide range of opinions about rents in some counties, and bigger than normal changes when leases were re-negotiated, he explains.

For the state, the 2008 average is $177/acre, up from $150/acre in 2007 and $137/acre in 2006. The range was $100/acre (low quality land in Emmet County) to $300/acre (high quality in Osceola County).

In the center eight counties, based on average yields for 2003 to 2007, the average land rent per bushel was $1.02 (range, 89¢ to $1.12) for corn and $3.61 (range, $3.34 to $3.98) for soybeans.

For a link to the full report, see www.ToProducer.com Web Extra.

 
---

New payment limit traps

Farmers breathed a sigh of relief when the long-awaited 2008 farm bill left the $40,000 direct payment and the $65,000 countercyclical payment (CCPs) limits intact. Congress also abolished the $75,000 limit on loan deficiency payments (LDPs) and marketing loan gains, so producers no longer have to play the generic commodity certificate game. Southern farmers preserved their cherished separate payment limits for peanuts.

But two major rule changes may cost larger operations payments:

• Beginning with the 2009 crop year, the three-entity rule is dead. All program payments will be attributed to individuals and payments to entities reduced pro rata to the extent the individuals who own those entities also receive payments. Farmers may still farm jointly in partnerships, but the number of payments will match the number of partners.

• The new Adjusted Gross Income (AGI) rules may also prove troublesome. The old law's rules barred few real farmers from receiving payments. The new rules are much stiffer. Any farmer whose adjusted farm income exceeds $750,000 is ineligible for direct payments but remains eligible for CCPs, LDPs and the new ACRE payments. Any farmer whose average adjusted nonfarm income exceeds $500,000 is ineligible for all payments except conservation payments. Persons with an AGI in excess of $1 million are ineligible for CRP and other conservation payments unless at least two-thirds of that income is from farming. As with the old law, AGI is calculated in each case on a three-year average.

There are at least two ways producers who are not also NFL players or rock stars may be caught by these new AGI rules:

1. Farm income includes the sale of farmland. At these prices, even a small sale could trigger the cap.

2. Renting farmland and equipment to your own farm partnership. To comply with farm program rules, such land and equipment leases must be at fair market rents, which are generally high, and if the partnership pays most farming expenses, the producer who collects this rent may have few expenses to deduct from the rental income.

Husbands and wives who farm together may be able to double both the farm and the non-farm AGI limits even if they file a joint return, if the couple's accountant certifies how the income on their joint return would have been allocated between them had they filed separately. Thus, a couple with a joint-farm AGI of $1 million may avoid losing direct payments if they can allocate that income half to the husband and half to the wife. —Allen H. Olson, an agricultural lawyer with Moore, Clarke, DuVall and Rodgers, P.C. in Albany, Ga.

 
---

Three forces for successful succession

Three forces need to work together to successfully transition the business to the next generation, says family business consultant Dean Fowler of Dean Fowler Associates in Brookfield, Wis. They are: passion, family, and legacy.

"Without passion and commitment to a career in the business, successors are unlikely to become proactive and work to design their future. This may mean changing the business and their roles to be more in alignment with their own desires and interests.
"It doesn't matter if the younger generation is proactive if the senior generation is not committed to fostering their success," he adds. "Successful families create an environment of open discussion through regular family council meetings where the needs of both generations are integrated into a plan for the success of the business."

At the end of the day, it all boils down to all members of the family being on the same page and recognizing that the future lies with the young. —Linda H. Smith

 
---

How much can you afford?

Perhaps land rental rates and prices are not as outlandish as some think. Even based on greatly higher variable costs in 2009 as the table shows, current corn and soybean prices make those levels possible. The concern is paying up for land only to see crop prices drop a few years out.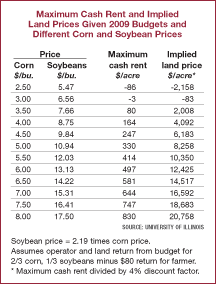 ---

Limits on crop insurance price changes

Acknowledging increased risk, USDA's Risk Management Agency announced 200% limits for coverage price changes between sign-up and harvest for Crop Revenue Coverage, Revenue Assurance and Group Risk Income Protection for fall crops (Sept. 30 deadline). There is no longer any downward price limitation. —Jan Eliassen, Ad Hoc Associates, a consultant to the crop insurance industry


---

"The definition of genius is surely 98% perspiration and 2% inspiration." Pearse Lyons, president, Alltech, Louisville, Ky.

"Handle the challenge of change well and you can prosper greatly. Handle it poorly and you put yourself and others at risk." John Kotter, Our Iceberg Is Melting


---

Top Producer, Summer 2008