As combines roll and the golden rewards of your planning, planting and tending flow into grain carts, your main focus is getting those bushels out of the field fast. However, it pays to run a few quick calculations before pouring them into bins. And once they are stored, revisit your decision often.
"Your storage decision is based on expectations of better prices and better basis," says Carl German, University of Delaware Extension grain marketing specialist. But don't forget that storing incurs costs, he says. "Even if you store on the farm, you should allow some value for handling and management, drying, interest and shrink compared with if you delivered right out of the field."
The table below, from an interactive online Grain Marketing Decision Aid developed by German, shows how to calculate your cost of storage. You can use it to compare storing for different time periods.
In mid-September, for example, assuming 2¢/bu./month storage cost, 2¢/bu. drying cost, 4% interest and a harvest cash price of $4.83 for corn and $10.01 for soybeans, storing until March would mean a break-even cash price of $5.09 and $10.31, respectively.
With March corn futures at $4.91, the market was not encouraging storage. Basis would have to be a positive 18¢ to provide a return to storage—or there would have to be an improvement in the futures price.  
With March soybean futures at $10.48, any basis better than 47¢ would provide a positive return to storage, given these assumptions.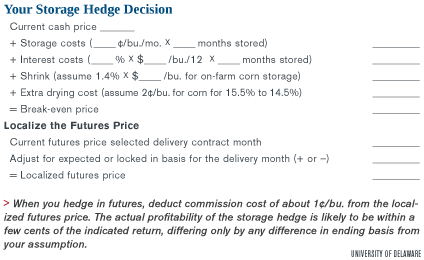 For More Information
Marketing Grain Using a Storage Hedge (PDF)
---
Top Producer, October 2010