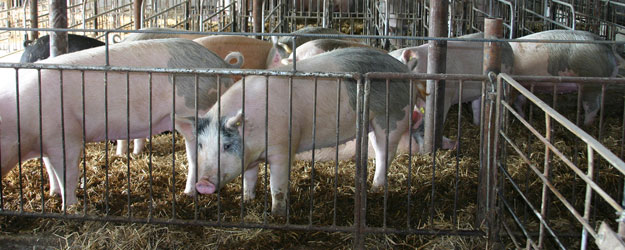 The porcine epidemic diarrhea virus (PEDv) outbreak peaked in February and March of this year, with more than 200 new cases being reported every week. Now that's fallen below 100.

The number of states reporting cases remains at 30.
Watch the full AgDay report:
Because it is not still fully known how PEDv spreads, fairs around the nation are closing their doors to the swine barn. That means not allowing hogs at some fairs. The Indiana State Fair is allowing hogs, and those there tell us why they didn't cancel this year's exhibit.
"I was a little concerned at first, going to some of these jackpot shows in the early spring," says Indiana producer Cade Patten.
For many, visiting the swine barn at the Indiana State Fair is a yearly tradition. This year, that tradition almost didn't happen.
"We didn't know in January that this was possible. The mortality rate was so significant in herds across the state. We didn't know if we could host shows," says Indiana State veterinarian Bret Marsh.
For months Marsh had conversations with fair managers, helping them decide what actions to take because of PEDv.
"We have been taking cues from them and all the county fairs in the state. It never got to a critical level," says Indiana fair manger Andy Klotz.
As a precaution this year, Marsh and his staff performed an electronic identification check-in process before hogs were placed in the barn.
"As they come off the trailers, they are reinspected. We're looking at any clinical illness before arrival. Once in building, vets on campus are there to help with diseases," Marsh says.
Marsh and his staff perform daily checks around the building to be extra cautious.
"They have those who are actually sampling pigs for influenza throughout the run of the 4-H fair. It's an ongoing process," he says.
Purdue University ag economist Chris Hurt says PEDv has lessened.
"We were getting 300 new herds weekly that were being tested positive to PED. Those numbers are being tested down to 100," Hurt says.
Hurt adds that it's still not full control. How long the virus remains around is uncertain.
"The disease persists better and transmits better in cold weather months. So the question is as we go into this cooler fall and winter, will we have a resurgence of PED cases and death loss?" he says.
That's why it's important for producers like Cade Patten to stay on top of the disease.
"The breeders are doing an excellent job of keeping hogs vaccinated," Patten says.
Marsh says he did suggest terminal shows to many fair managers who were uneasy about the virus. He says this is the first summer PEDv has been found in exhibition pigs.
Marsh says these extra precautions at the fair aren't new. He did them last year as well for H1N1.