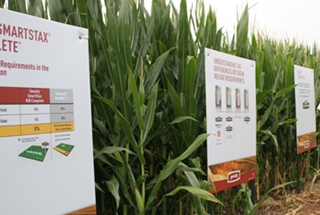 As investors and regulators on Wall Street and Washington consider the financial implications of combining Monsanto and Syngenta, row crop farmers are doing the very same thing.
Would merging the world's biggest seed company with a major crop protection company be a good or bad thing for farmers?
Many growers are skeptical that they will benefit. According to a June AgWeb poll, 80.5% of respondents said they thought the proposed merger of Monsanto and Syngenta would have a "negative" or "very negative" impact on farmers. A Farm Journal Pulse poll, also in June, found 73% of those surveyed also believe the deal would hurt farmers.
Monsanto, which has pursued Syngenta before, disagrees.
"I think the strategic rationale of combining the strongest seeds and traits portfolio with the strongest chemistry platform makes absolutely a lot of sense for farmers," said Brett D. Begemann, Monsanto's president and COO, told AgriTalk's Mike Adams in June. "When you look at the challenges that agriculture faces, agriculture needs innovation to continue to drive the productivity of agriculture, and I think this a really golden opportunity to do this."
In his conversation with Adams, Begemann tackled many of the questions and concerns farmers have about this deal and what will happen to seed choices and input prices if the merger eventually goes through. Here is an edited version of Begemann's responses to Adams' questions.
On the future of Syngenta's seed business if the merger takes place:
"This about combining their fantastic chemistry portfolio with our strong seeds and traits. We've made it clear from the beginning that the seed business and the trait business from Syngenta would definitely be sold, as well as certain overlapping herbicide assets."

On the possibility of selling Monsanto's seed business to ease potential regulators' concerns about the deal:
"No …  we like our seeds and traits position, and we would leverage that seeds and traits position to put together the offerings for farmers … it makes it very straightforward on the seed side to sell [Syngenta's] part."
On farmers' concerns about the merger resulting in less competition, fewer choices, and higher costs:
"Farmers are quick to give us feedback, which I have always appreciated it… I actually think agriculture is relatively fragmented versus a lot of industries out there. When you think about the players in seeds and traits and fertilizer companies and equipment companies, who would have thought five years ago that companies like Google and IBM would be talking about engaging in agriculture and spending in agriculture?  What I tell farmers is what we're trying to do is create more choice.  [We are also trying to] optimize productivity by making changes in a more productive way."
Listen to Begemann's comments on the public nature of this proposed merger  and farmers' reaction to the deal:
On how this merger would affect farmers' choices for seeds and crop production:
"We want farmers to have every choice they had before the deal--they'll have that choice after the deal. This is about creating new strategic choices for farmers, not about reducing choices."
On how this deal might affect the market share of Monsanto: (The St. Louis-based company is the largest provider of seed for corn and soybeans in the world.)
"We're not anticipating there will be this dramatic shift in market share after the transaction. This is more of a longer-term look."

On how such a merger might affect pricing of seeds and other inputs for farmers: 
"Pricing is an every year event. ... '15 has not been good for us, and it has not been good for our farmer customers. $3.50 corn is a really different story than $6 dollar corn (as are) beans under $10 again. So it's tough going. We look at all of that as we price all of our products going forward. The deal doesn't really change how we look at any of that."

On farmers' concerns about affording seeds, crop protection, and other products if the merger goes through:
"At the end of the day, they have the ultimate vote. If we don't create value for them on the farm, I'll be shocked if they buy our products. Some of the wisest people I know are farmers and they've got really sharp pencils. This has to work for them, or it's not going to work for us. I'm confident they'll hold us accountable to bringing value added solutions to their farm and I look forward to being in that conversation with them to address that. …. We will take into consideration the challenges they face and drive for value creation so that farmers will be in a position to make a good choice and drive us to do what's appropriate for them."">
 
Listen to Begemann discuss the how the merger might or might not affect input prices for farmers:

On the possibility of changing the names of Monsanto products such as Asgrow, Delkalb or Channel:
"No, those brands are really, really important. We want our customers to have as much transparency about what they were buying yesterday as what they are buying today... We would hang on to every one of those brands and continue to leverage those."

On whether these ongoing discussions between Monsanto and Syngenta will actually result in a merger:
"I'm an optimist, and I believe we're going to find our way in to a conference room somewhere and find some way to get this deal done."">