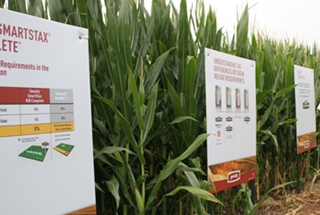 Monsanto Co., the world's largest seed company, says it would rather have voluntary federal labeling standards for genetically modified organisms instead of a patchwork of state rules that it says will raise food costs and disrupt trade.
"I think a federal standard would be the right path to bring that certainty for consumers and certainty for food companies," Jesus Madrazo, global corporate engagement lead for Monsanto, said in an interview at an industry conference in Winnipeg, Manitoba. "We need to strive for a reasonable approach that provides consumers what they need, but also doesn't increase the cost of food or disruption on trade."
A voluntary labeling standard, similar to the organic seal, would allow food companies the choice to label and do so in a fair way that does not imply a product labeled GMO is "less safe, or inferior, to its conventional or organic counterpart," Monsanto spokeswoman Trish Jordan said in an April 14 emailed statement.
GMO ingredients are common in food sold in the U.S., where more than 90 percent of corn, soybeans and sugar beets are genetically engineered, grown from seeds that companies including Monsanto produce. Consumer concerns over GMO crops have been growing, prompting state ballot initiatives and legislation from Vermont to Hawaii requiring labels. Food companies and agribusinesses have spent tens of millions of dollars fighting to avoid a state-by-state patchwork of laws they argue would be expensive and burdensome.
The Senate last month rejected legislation that would invalidate state rules mandating labels for food containing GMOs. Trade groups representing agribusinesses and food companies including Monsanto and Kraft Foods Group Inc. supported that plan. Negotiations on a revised proposal will continue, Senator Debbie Stabenow of Michigan, ranking Democrat on the Senate Agriculture Committee, said last week.
Kellogg Co., Conagra Foods Inc. and Mars Inc. are planning to label all U.S. products made with GMOs as Vermont implements a label law July 1. They followed Campbell Soup Co. and General Mills Inc.