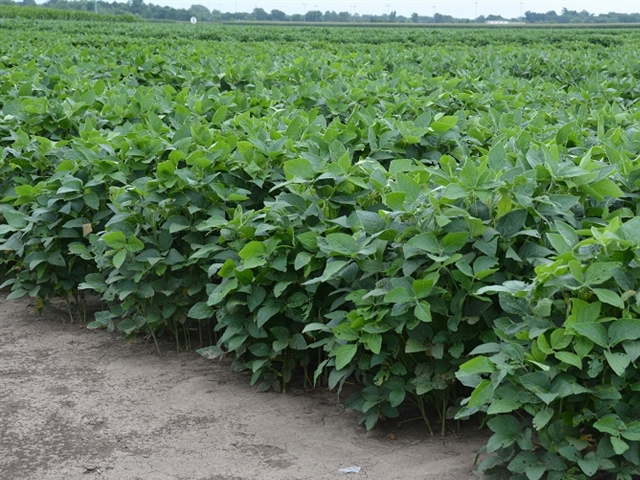 Monsanto Co. rejected a request by Argentina for more time to force farmers to pay royalties on genetically modified soybean seeds, according to people with knowledge of the situation, the latest twist in the saga of the largest seed company's attempts to collect revenue in the country.
Agricultural Minister Ricardo Buryaile and members of his staff met Monday with Monsanto executives including Chief Operating Officer Brett Begemann to request the waiver, said two of the people, who asked not to be identified as the talks are private. Monsanto has rejected the request, citing payments already made by growers of its soybeans, according to the people.
The meeting follows an April 15 government resolution that gives the Agriculture Ministry control of the analysis of seeds in the country, a move that would render obsolete a Monsanto-funded network of laboratories set up to detect its seeds at Argentine ports and help enforce payment.
The St. Louis-based company has fought for years to collect the money it says it's owed in Argentina, the world's third-largest grower of soybeans. Some of the country's crop is grown from modified beans saved from a previous harvest. While that practice is as old as agriculture itself, Monsanto and other biotech-seed companies want to collect royalties in every crop its technology is found in a bid to supply each year's seeds for planting. Some Argentina farmers object to the strategy, choosing instead to hoard and then sow modified seeds or buy from other seed sellers who don't pay Monsanto.
Flash Point
President Mauricio Macri was elected in November with crucial support in the key soybean-producing provinces of Cordoba, Santa Fe and Buenos Aires, after which he reduced the country's export tax on the commodity. Last week's government resolution comes as farmers are in the middle of delivering the 2015-16 soybean crop for export.
While the country accounted for just $871 million, or 5.8 percent, of Monsanto's sales last year, it offers significant growth potential.
The latest flash point concerns Monsanto's Intacta soybeans, which are modified to tolerate the application of herbicide and resist insects, offering potentially higher yields. The product was introduced three years ago and is the company's fastest-growing biotechnology trait.
Monsanto Lab
Monsanto and the government agree that large soybean growers, who collectively signed sales contracts for enough Intacta to plant on 4 million hectares (1.6 million acres), must pay royalties. The sticking point is over how to deal with growers who use Monsanto technology, but who don't buy the seeds directly from the company. While rejecting Argentina's waiver request, Monsanto has offered to cut to $9 a hectare from $15 the money it's seeking from that group, one of the people said.
According to an official from Monsanto's funded lab at the Rosario Exchange, twice as many seed samples have been found using the company's technology than those that paid upfront for the seeds. Monsanto gets a real-time alert on the tests, said the official, who asked not to be named because he isn't a lab spokesman.
Delayed IPO
Monday's meeting was "cordial," with both parties agreeing to emphasize the importance of paying for technology and promote free trade and investment, said Evelyn Scofano, a ministry spokeswoman. She declined to provide further details.
Monsanto agreed to work with the agricultural industry to develop "sustainable, long-term mechanisms for value capture," Monsanto Argentina President Juan Farinati said in an e-mailed statement.
Monsanto rose 3 percent to $91.58 at 12:46 p.m. in New York. The stock has declined 7 percent this year.
The dispute has spurred Argentine seed company Bioceres SA to delay a initial public offering in New York, its Chief Executive Officer Federicio Trucco said Monday in an interview.
"With this resolution, Bioceres won't be able to convince any investor it's possible to collect payments here," he said.