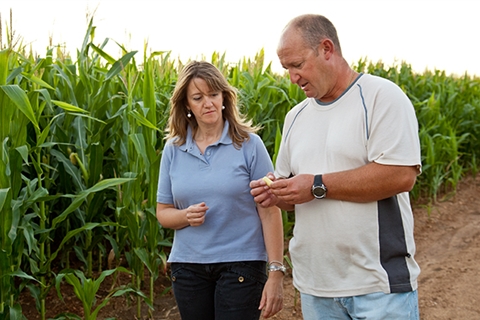 Monsanto Co., the world's largest seed company, said a new technology can help its crops fight off pests that have developed resistance to previous genetically modified varieties.
Researchers at the St. Louis-based company and at Harvard University have published results of a study in the scientific journal Nature, Monsanto said Wednesday in a statement. The scientists' work speeds up the process of generating proteins with insect-killing properties, the company said. Currently, it can take a year to engineer a protein in a lab, while using the new process can take a month, said Tom Malvar, insect-control discovery lead at Monsanto.
Theoretically, that means proteins can be tweaked to remain deadly, and the work can be done faster than the pace at which insects develop resistance. That could help the effectiveness of Monsanto seeds that contain a protein derived from Bacillus thuringiensis, or Bt, a soil bacterium used in organic farming that acts as an insecticide.
Genetically-modified crops, which account for most of the corn and soybeans grown in the U.S., have become less effective in recent years as insects and weeds develop resistance to herbicides and insecticides.
While the new technique may potentially apply to any biotech crop that involves proteins, it will likely appear first commercially in cotton and corn, the next generation of which are still years away, Malvar said.