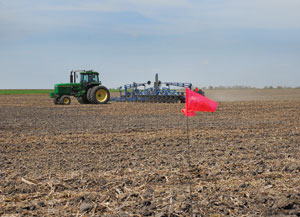 Monsanto Co., the world's largest seed company, forecast fiscal 2015 earnings that trailed analysts' expectations as tumbling grain prices leave farmers with less to spend.
Profit in the 12 months through the end of August will be $5.75 to $6 a share, Monsanto said today in a statement. The average of 25 estimates compiled by Bloomberg was for $6.03.
Monsanto said it expects earnings gains to mostly occur in the second half of the fiscal year because of a shift in the timing of orders. It plans on keeping the pace of general corporate spending increases to the inflation rate.
Chairman and Chief Executive Officer Hugh Grant told investors in August the increase in 2015 earnings may be smaller than gains seen in recent years because falling crop futures could limit Monsanto's ability to raise seed prices. Corn and soybeans, its two biggest seed markets, have slumped as U.S. farm production surges.
"The competition in corn seed will be fierce this year," Chris Shaw, a New York-based analyst at Monness Crespi Hardt & Co. who recommends buying the shares, said in an Oct. 6 note. "Monsanto will still be positive on 2015 seed pricing, but will likely have to reevaluate this stance."
Rain and mild weather have helped to boost U.S. crop yields. Farmers will collect a record 14.395 billion bushels of corn this year, the U.S. Department of Agriculture estimates. Lower grain prices will cut U.S. farmer profits by 14 percent, the USDA said in August.
The drop in income is affecting other companies. Tractor maker AGCO Corp. yesterday cut its full-year earnings forecast citing a slowdown in sales. Deere & Co., the world's largest manufacturer of farm machinery, last month reduced its forecast and said it's laying off workers amid weaker demand.
Monsanto also said today that its loss excluding some items in the fiscal fourth quarter ended Aug. 31, a seasonally weaker period dependent on sales in South America, was 27 cents a share, wider than the 24-cent average estimate.
Monsanto in June announced plans to repurchase $10 billion of stock over two years as part of a plan to double earnings per share in five years. The company raised $4.5 billion for the buybacks in its biggest-ever bond sale, prompting Standard & Poor's to cut Monsanto's credit rating three levels to BBB from A .