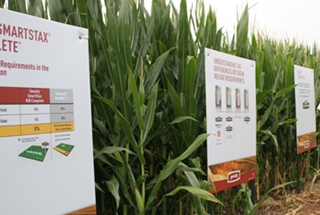 It's been characterized variously as sinister, evil and a corporate bully. Surveys rank it among the most hated companies in America. And now Bayer AG wants to buy it.
The deal proposed by Bayer on Wednesday has an undeniable industrial logic, marrying its crop-chemicals operations with Monsanto Co.'s market-leading seed business to create the largest company of its kind. But if the takeover succeeds, Bayer will likely find itself in the crosshairs of Monsanto's army of critics.
In the two decades that St. Louis-based Monsanto has sold genetically modified crops, it has become a lightning rod for environmental activists warning of the dangers of cultivating and consuming GMOs. It's been attacked for the legal tactics used to enforce its patents, accused of being a factor in farmer suicides in India, and blamed for contributing to the decline of the monarch butterfly. And while Monsanto has rejected criticism in each case, the controversies have indelibly marked its image.
Monsanto's "reputation is disastrous, it's a mess," said Eric Schiffer, chief executive officer of Irvine, California-based Reputation Managements Consultants.com, an advisory firm. "Monsanto is viewed as evil."
Global March
In Harris Poll's 2015 study of America's most loved and hated companies, Monsanto garnered a "poor" rating and ranked fourth-lowest -- not as bad as bottom-of-the-table Goldman Sachs Group Inc., but nevertheless lagging behind companies including BP Plc and Halliburton Co., both of which were involved in the Deepwater Horizon oil spill.
On Saturday, activists in locations around the world will participate in the March Against Monsanto, according to the organizers, who are calling for further research on the health effects of GMOs. is a Twitter hashtag in regular use. Canadian rock star Neil Young released an album last year called "The Monsanto Years." Sample lyric: "When corporate control takes over the American farm/With fascist politicians and chemical giants walking arm in arm."
Monsanto has manufactured controversial compounds throughout its history, including highly toxic polychlorinated biphenyls, also known as PCBs. It was also among companies that made the mixture of herbicides known as Agent Orange and used as a defoliant by the U.S. in the Vietnam War.
PR Machine
In the event of a deal, Bayer would probably drop the Monsanto name and conduct a review of its business practices, including how to litigate on patents, Schiffer said. Such moves might encourage investment from money mangers who until now "didn't want to be aligned with evil," he said. Bayer declined to comment on Monsanto's reputation.
Monsanto has been at the center of the GMO debate for so long it operates a
well-oiled public-relations machine. The company has recruited scientists to write about the advantages of plant biotechnology. It has invited reporters to tour its St. Louis headquarters, while Chief Technology Officer Robb Fraley has become a regular GMO booster on social media. On Friday, Monsanto launched a social media campaign to promote science.
Monsanto has worked hard to be part of debates surrounding food and agriculture and has invested to provide the public with information about the company and its role in the food chain, spokeswoman Sara Miller said Thursday in an e-mailed statement.
'Hubris, Naivety'
The company's approach was different 20 years ago, when GMO technology was introduced. At the time, Monsanto dealt with public concerns with "hubris and naivety," Chief Executive Officer Hugh Grant said in a March interview with The Independent. Being the market leader and inventor of some GMO technologies has made the company "the de facto spear catcher" for those concerns, he told NPR in an interview the same month.
Monsanto isn't the only producer of modified seeds. Bayer makes them, and that doesn't appear to have hurt public perceptions, said Jonas Oxgaard, an analyst with Sanford C. Bernstein & Co. in New York.
Monsanto attracts more scrutiny on social media platforms than its peers and doesn't have a clear, upbeat message that informs the public about the positive things the company is doing, said John Kriney, the founder of marketing company OptFirst in Miami Shores, Florida. Monsanto's public-relations strategy appears to react to every itemized attack on their operations, which leaves them in a negative cycle, he said.
'Positive Narrative'
"It's almost a buzzword for attracting attention right now, Monsanto's name," Kriney said in a telephone interview. "I just don't think that's a winning battle."
Companies like Monsanto can avoid being the "lowest hanging fruit" for the environmental lobby and other public-policy groups by more clearly defining their focus and investing to create a more positive narrative, said Jim Courtovich, managing partner of Sphere Consulting in Washington. Bayer is a company that has a great reputation in communicating and can help better educate people on Monsanto's business, he said.
"Monsanto has been better defined by the critics than they should've been," Courtovich said in a telephone interview. "We see often times a company has a terrible reputation that often is not that they've done something horrendously bad. They've just let others define them."