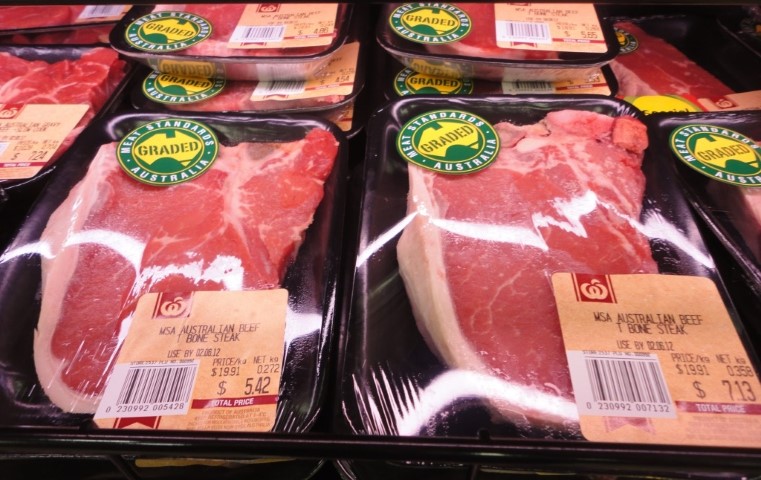 U.S. diners are set to tuck into more beef and veal from Australia.
Exports to the U.S. from the third-largest shipper will jump 35 percent to 360,000 metric tons in 2014-2015, the Australian Bureau of Agricultural and Resource Economics and Sciences said in a report. That's the highest since 2004-2005.
The U.S. cattle herd started the year at the smallest since 1951 after years of drought forced producers to cull herds, and cattle futures reached a record last month. Prices may rise the most among agricultural commodities next year amid tight supply and strong demand, according to Rabobank International.
"Following prolonged drought conditions, U.S. cattle numbers are the lowest since the early 1950s," the Canberra- based bureau said in the quarterly report today. "U.S. cow slaughter is not expected to increase in the short term, so cow beef production will remain low and demand for manufacturing beef imports strong."
U.S. imports of Australian beef and veal accounted for 35 percent of shipments in first four months of 2014-2015 compared with 19 percent a year earlier, according to Abares. The full- year projection makes the U.S. the largest buyer, up from second in 2013-2014, according to the report.
Total exports will reach 1.18 million tons in the year started July 1, little changed from a year earlier, Abares said. Shipments to Japan may drop to 270,000 tons from 280,000 tons, while exports to China may contract 19 percent to 130,000 tons as the higher demand from other markets curbs supplies available for shipment to the second-largest economy, it said.
Live cattle futures for February delivery fell 1.8 percent to $1.61875 per pound on the Chicago Mercantile Exchange yesterday. Prices reached a record $1.7275 on Nov. 19 and have surged 20 percent this year. Australia's Eastern Young Cattle Indicator, which measures prices at saleyards in the country's east, was at A$3.572 ($2.94) per kilogram yesterday, the highest since Oct. 17.